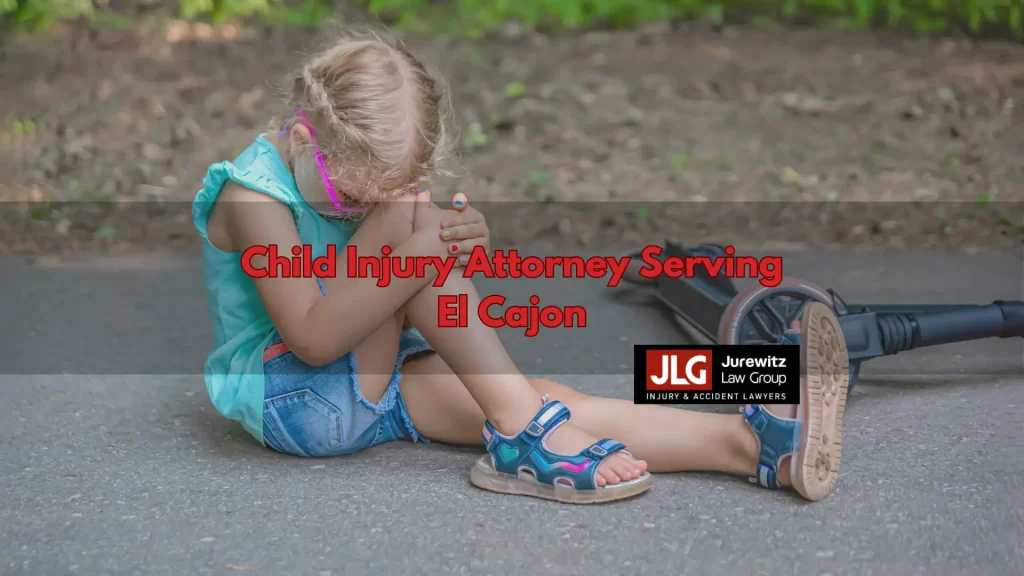 Legal Help for Child Injury Victims
As a parent' your greatest duty is to protect your child against illness and injury. But as a child grows' they increasingly spend more and more of their lives outside of your protective sphere. This can be very worrisome for parents because it's a dangerous world for children out there. If the unthinkable does occur and your child is injured due to the negligence of another party' you may face mounting medical costs and lost wages as you take time off of work to care for them. If this is the case' you may be able to pursue compensation for certain damages.
To get the settlement you and your child deserve' you will need the experience and guidance of a dedicated El Cajon personal injury attorney. The esteemed legal team at the offices of Jurewitz Law Group Injury & Accident Lawyers has been successfully representing El Cajon families for over 15 years. We fully understand how concerned you are about your child's health and well-being' and we're ready to assist you in any way we can. Call our office today to schedule a free consultation. We can be reached at (888) 233-5020.
What Kind Of Damages Can My Family Receive Compensation For?
Depending on the extent and severity of your child's injuries' your family may be able to pursue the following damages:
Current medical costs (including hospitalization' ambulance and emergency room fees)
Future medical costs related to their injury (corrective and reconstructive surgeries' skin grafts' etc.)
Pain and suffering
Permanent injury and disability
Costs of physical therapy and rehabilitation
Scarring and disfigurement
Costs of hiring qualified in home care
Special equipment and household and vehicle modifications (oxygen service' wheelchair lifts' etc.)
Lost wages (including any time you have to take off from work for doctor's appointments' surgeries' physical therapy' etc.)
Reduction of earning capacity if you are no longer able to work full time or if the other parent has to quit their job to provide care
Costs of special schooling (if necessary)
Costs of long term care (if necessary)
Costs of institutionalization (if necessary)
Costs of psychiatric counseling for the child (if necessary)
Punitive damages
Wrongful death damages (including medical bills' funeral and burial costs' and pain and suffering of the child before they died)
What Jurewitz Law Group Injury & Accident Lawyers Can Do
If we could' we would make it so that your child's injury had never happened. Unfortunately' that's not possible. What we can do is see that your child's recovery is financially as pain free as possible. We will conduct a thorough investigation to determine what caused your child's injury' who had the duty of care to prevent this injury' and what the immediate and long term overall costs for the injury will ultimately be.
We at the Southern California offices of Jurewitz Law Group Injury & Accident Lawyers sincerely hope you never need our services. But in the unfortunate event that you and your family find yourselves in need' rest assured our legal team is sensitive' caring' experienced' and tenacious. Never hesitate to call our El Cajon child injury attorneys with any questions you may have.
Contact Our El Cajon Child Injury Lawyers Today
Jurewitz Law Group Injury & Accident Lawyers has helped many El Cajon families suffering after a serious injury. We are always available for a free consultation at (888) 233-5020.