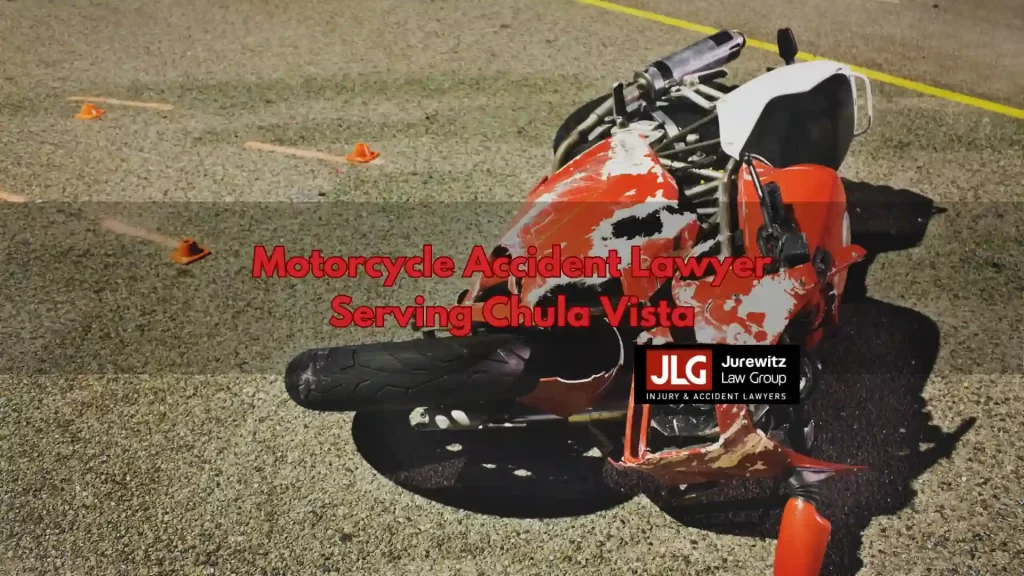 Legal Help For Motorcyclists Injured in Southern California
California leads the nation with more than 800'000 registered motorcycles' and that number continues to rise with every passing year. In cities such as Chula Vista' you can safely ride year round without fear of treacherous weather conditions or icy roads. Riders do' however' have to look out for careless drivers and dangerous roadways' which put motorcyclists and their passengers in harm's way.
With nothing to protect them' motorcycle riders are vulnerable on the roadway. Even during low speed collisions riders can get violently thrown onto a vehicle or roadway. Collisions could result in catastrophic or even fatal injuries devastating not just the individuals involved' but also their family members. If you or a loved one has suffered injuries in a motorcycle accident' please contact the Jurewitz Law Group Injury & Accident Lawyers for more information about pursuing your legal rights.
What Causes Motorcycle Accidents?
In Chula Vista' two people died and 61 were injured in Chula Vista motorcycle accidents during the year 2012' according to California Highway Patrol's Statewide Integrated Traffic Records System (SWITRS). There are a number of reasons why motorcycle accidents occur in Chula Vista. Here are some of the most common causes:
Left turns: According to the U.S. National Highway Traffic Safety Administration (NHTSA)' one-third of vehicle versus motorcycle collisions occur when the other vehicle is trying to make a left turn. Often times' drivers attempting to make a left turn fail to see an oncoming motorcycle.
Speeding: Driving at an excessive rate of speed is a common cause of motorcycle accidents. We see this often in rear-end collisions when vehicles ram motorcycles from behind simply because they are unable to stop in time to avoid the crash.
Impaired driving: Whether it is the motorcyclist or the motorist' driving under the influence of alcohol or drugs can put everyone in harm's way.
Dangerous roadway conditions: This may include slippery surfaces' uneven pavement' loose gravel or debris on the roadway. Since motorcycles are smaller in size and have less stability than other passenger vehicles' they may be more vulnerable to dangerous roadway conditions.
Reckless driving: Other causes of motorcycle accidents include distracted or fatigued driving.
Motorcycle Accident Injuries
Nearly 80 percent of motorcycle accidents result in some type of injury. Some of the most common types of injuries in a motorcycle crash include:
Traumatic brain injury: A blow to the head can result in a traumatic brain injury' which could cause bleeding in the brain tissue or swelling.
Spinal cord trauma: These injuries could result in partial or total paralysis' which could require permanent or round-the-clock care. Less severe injuries may include disc or nerve damage.
Broken Bones: When the motorcyclist or passenger is thrown from the vehicle' fractures may occur. Depending on the location and severity of a bone break' it may take weeks or months to recover.
Road rash: This is when the motorcyclist's contact with the pavement can cause severe lacerations' abrasions and burns. Road rash can be extremely painful and could become infected if it is not properly treated.
Internal organ damage: Motorcycle accidents could result in internal organ damage such as a punctured lung or ruptured spleen.
Compensation for Damages from a Chula Vista Motorcycle Accident
If you have been injured in a motorcycle accident' you can seek compensation for damages including medical expenses' lost wages' hospitalization' rehabilitative treatment' disability' pain and suffering and mental anguish. An experienced Chula Vista accident attorney can help determine the liable parties and hold them accountable for the victims' injuries' damages and losses. Please call Jurewitz Law Group Injury & Accident Lawyers at (888) 233-5020 to better understand your legal rights and options.
Additional Information