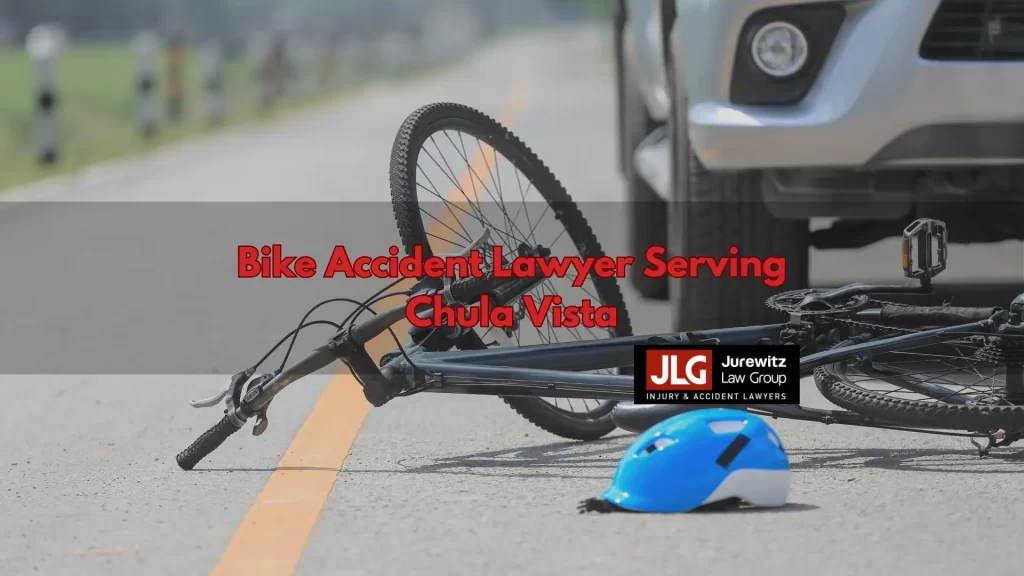 Representation For Victims of Bicycle Collisions
Chula Vista is known as a bike-friendly city. There are a multitude of on-street bike lanes and bike routes in and through Chula Vista. The city has year-round perfect weather for bicycling. Many residents not only rely on bike lanes for exercise but also for their daily commute to and from work. While riding a bike in Chula Vista can be a great way to exercise and commute' it also poses some serious hazards.
Riders in Chula Vista are often at risk of suffering catastrophic injuries in an accident. Even if they are wearing a properly fitted helmet' there is still very little to protect them from a devastating impact with the car and roadway. It is common for bicyclists to suffer traumatic brain injuries' multiple bone fractures' road rash' back and neck injuries. If you or a loved one has been injured in a bicycle accident please contact Jurewitz Law Group Injury & Accident Lawyers to better understand your legal rights and options.
Common Causes of Bicycle Accidents
According to the California Highway Patrol' two fatalities and 61 injuries were reported as a result of bicycle accidents in Chula Vista in the year 2012. These types of accidents occur for a variety of reasons. Often' these accidents occur due to driver negligence or dangerous or defective roadways.
When a bicycle accident occurs' it is important to investigate who was responsible for a crash to determine who should be held liable for the injuries suffered by the victim. Examples of driver negligence that can lead to a Chula Vista bicycle crash include:
Excessive speed: Motorists who are exceeding the speed limit have less time to avoid a collision with a cyclist.
Distraction: Drivers who are looking at their cell phone or are otherwise distracted pose serious danger to bicyclists.
Impaired driving: A number of vehicle versus bicycle collisions are caused by drivers who are under the influence of alcohol and/or drugs.
Recklessness: Many bicycle accidents occur at intersections. Motorists who run red lights and ignore stop signs put bicyclists at risk.
Failure to yield: Bicyclists have the same rights and responsibilities as drivers. But motorists often fail to yield the right-of-way to bicyclists at intersections.
Bike lane intrusion: When motorists drive into bike lanes' it can result in a major injury bicycle collision. It is illegal for motorists to drive in bike lanes under the law.
If You Have Been Injured in Chula Vista
If you have been hurt in a bicycle accident' call the police right away and remain at the crash site. If you have been injured' do not decline treatment at the scene. Go to the emergency room to get the care you need right away. If possible' try to get the contact information from the driver and from anyone who witnessed the accident. It would also be a good idea to take photos of the crash site' your bicycle and the injuries you sustained. Make sure a police report is filed and obtain a copy for your records.
Contact an experienced Chula Vista accident lawyer from Jurewitz Law Group Injury & Accident Lawyers who will fight for your rights and ensure that you are fairly compensated for your losses. Injured bicycle accident victims can seek compensation from the at-fault parties for damages such as medical expenses' lost income' hospitalization' rehabilitation' pain and suffering and emotional distress. Please contact our personal injury law firm at (888) 233-5020 for a free' comprehensive and confidential consultation.
Additional Information