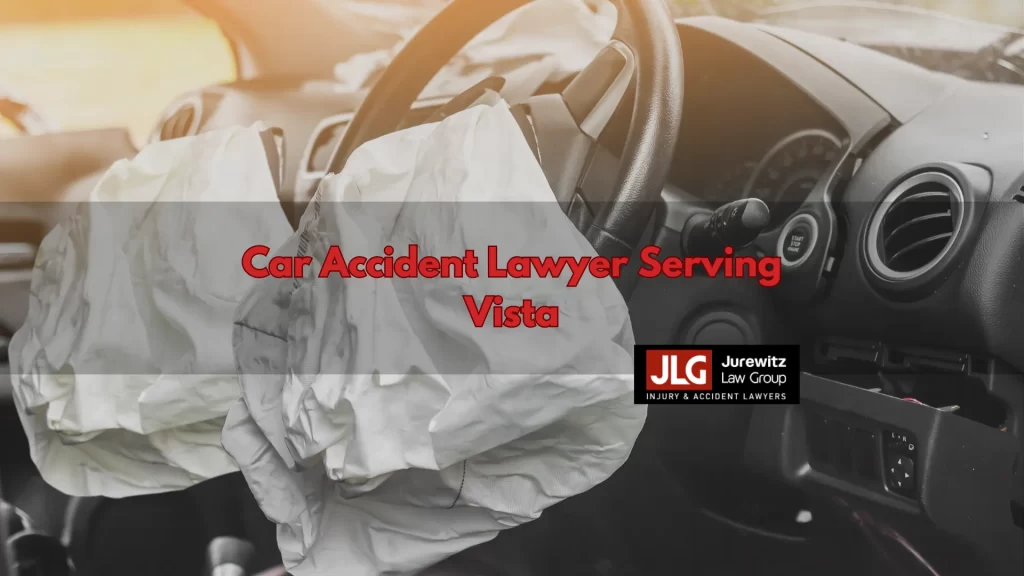 Need to File an Auto Accident Claim in Vista? Talk to Us.
Vista is in North San Diego County and has a population of almost 100'000 people. Recently' Vista was listed as the seventh-best place in the United States for family life by Money Magazine. Together with Oceanside and Carlsbad' it forms a "Tri-City area" south of Camp Pendleton' the busiest military base in the United States. California State Route 78 is the main highway through town. Other roadways include San Diego County Route S13 (Vista Village Drive/East Vista Way)' San Diego County Route S14 (Santa Fe Avenue)' Bobier Drive' Civic Center Drive' Melrose Drive' Sycamore Avenue' Shadowridge Drive' and Emerald Drive.
Why talk about these roads? Well' like most of Southern California' traffic can be heavy in Vista' and accidents are common on those roads. While most motor vehicle crashes only result in property damage' some cause serious injuries that land victims in Tri-City Medical Center. Even a nice city like Vista isn't immune.
If you have been injured in a Vista car accident' you may be entitled to compensation for your losses. But auto claims can be complicated' because you'll be dealing with the liable party's insurance company. Insurance companies are notorious for denying claims or offering settlements that are less than adequate. Don't let this happen to you.
For nearly two decades' the seasoned legal team at Jurewitz Law Group Injury & Accident Lawyers has been protecting the rights of San Diego personal injury victims' ensuring that they don't get screwed by insurance corporations. To get the compensation you deserve' call Jurewitz Law Group Injury & Accident Lawyers for a free case evaluation by dialing (760) 585-4640.
Compensation for Accident Injuries
Serious injuries from a collision can have a devastating impact on a victim's entire family. Medical bills can skyrocket' work may be missed' careers may be lost' and injuries can permanently alter a person's lifestyle. With the representation of Jurewitz Law Group Injury & Accident Lawyers' you can recover such losses and damages as:
Present and future medical bills.
Lost wages.
Loss of career or earning capacity.
Pain and suffering.
Permanent injury or disability.
Scarring and disfigurement.
Loss of joy of life.
Wrongful death if you've lost a loved one.
And much more.
Remember' Insurance Companies Are Not Your Friends
Neither your insurance company' nor the insurance company of the driver that hit you' are your friends. They don't care about you or your family' and how your injury has affected every area of your life. They are only interested in money' and will try to deny your claim or offer you a meager payout that doesn't come close to covering your losses.
Don't let yourself get screwed by the insurance industry. Instead' contact the Vista personal injury attorneys at Jurewitz Law Group Injury & Accident Lawyers and get the compensation you deserve. Jurewitz Law Group Injury & Accident Lawyers isn't one of those "settlement mills" you see advertised on TV. We won't just accept the first offer' take our cut' and say goodbye. We don't hesitate to go to trial if insurance companies won't live up to their responsibilities.
Our North County office is located only a short drive from Vista' on 2244 Faraday Avenue #101 in Carlsbad. We've handled accident claims for many Vista residents' and know all the local rules. For a free consultation' call our experienced legal team at (760) 585-4640.