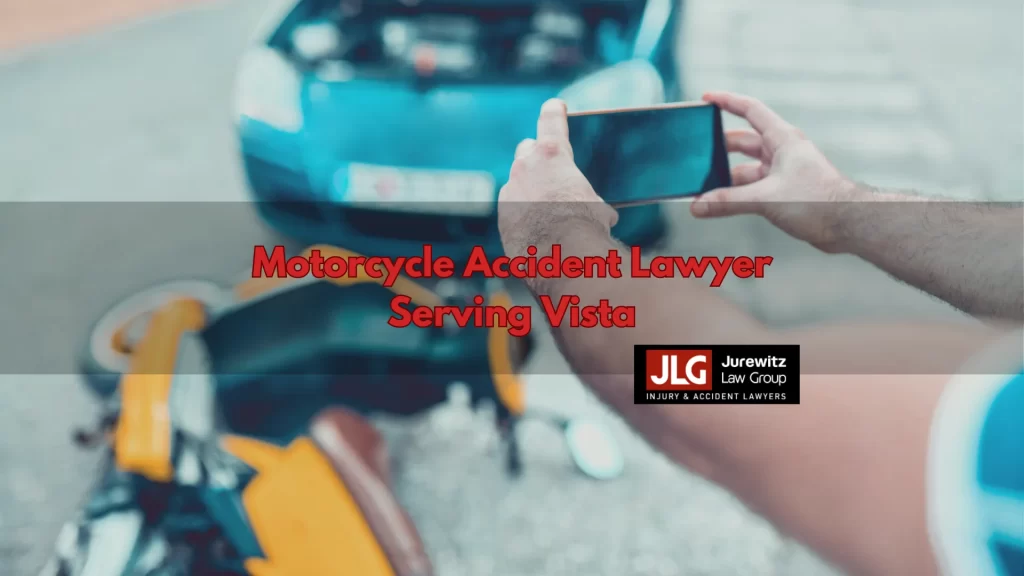 Protect Your Rights After a Motorcycle Crash
With three hundred sunshine-filled days each year' Vista is a great place to ride your motorcycle. But' no matter how safe a biker you are' there is always a chance of getting hurt on the road. Dangerous road conditions and reckless drivers routinely cause accidents even the most experienced riders can't avoid. If you're ever in a motorcycle accident' Jurewitz Law Group Injury & Accident Lawyers is here for you. For years' we've helped motorcycle accident victims dealing with pain' emotional distress' and financial hardships related to their crash.
Jurewitz Law Group Injury & Accident Lawyers can help you pursue a settlement to help cover medical bills' lost wages' and pain and suffering. We have the experience' knowledge' and dedication to protect the rights of motorcycle accident victims. Contact us today at (888) 233-5020.
Common Causes of Vista Motorcycle Accidents
Jurewitz Law Group Injury & Accident Lawyers has seen many different causes of motorcycle accidents. Here are the most common motorcycle accident causes our clients have reported:
Cars making left-hand turns (over 40% of motorcycle accidents involve a car making a left-hand turn at a corner with out checking for approaching vehicles)
Drivers speeding
Drivers under the influence of alcohol or drugs
Drivers not following traffic signs or signals
Poor road conditions
Highway construction
Lack of protective/high-visibility clothing on bikers
Common Motorcycle Accident Injuries
Vista motorcycle accidents are responsible for many serious and even life-threatening injuries. Here are the most common injuries our clients have suffered after motorcycle accidents:
Broken bones
Road rash
Whiplash/neck injuries
Spinal cord injuries
Head/brain injuries
Amputation injuries
Wrongful death
California Motorcycle Helmet Law
California has a universal helmet law. This means ALL motorcycle riders in California have to wear helmets at all times. According to the National Highway Traffic Safety Administration (NHTSA)' helmets reduce the risk of serious head injuries by 30 percent.
Over 400 California motorcyclists die in accidents annually on our state's roads and highways. Though helmets have helped decrease these numbers' the lack of protections like seat belts' air bags' and the presence of other vehicles still make motorcycle riding inherently dangerous.
Who Can Be Held Liable for a Vista Motorcycle Accident?
The details surrounding your motorcycle accident will dictate who can be held liable for the crash. Here are the most common defendants in Vista motorcycle accidents claims:
Negligent Drivers: the actions of reckless drivers under the influence of alcohol or drugs' distracted by cell phones' or inexperienced drivers often cause serous motorcycle accidents.
Businesses: if your accident was caused by a negligent professional driver like a trucker' you may be able to hold their employer liable for your motorcycle accident.
Local Government: if unsafe roadway conditions contributed to your motorcycle accident' you may be able to hold the local municipality who maintains the road accountable.
Motorcycle Manufacturers: motorcycle defects or equipment failures have been found to be common accident causes.
Compensation for a Vista Motorcycle Accident
A successful motorcycle accident claim can help you recover financial damages to pay for the following:
Medical bills
Rehabilitation costs
Lost wages
Lost future wages
Property damage
Pain and suffering
Contact Jurewitz Law Group Injury & Accident Lawyers Today
Jurewitz Law Group Injury & Accident Lawyers has guided many motorcycle and auto accident victims to successful settlements. We've helped our clients get the compensation they needed to heal and get back on their bikes. Call our Vista personal injury lawyers today at (888) 233-5020.