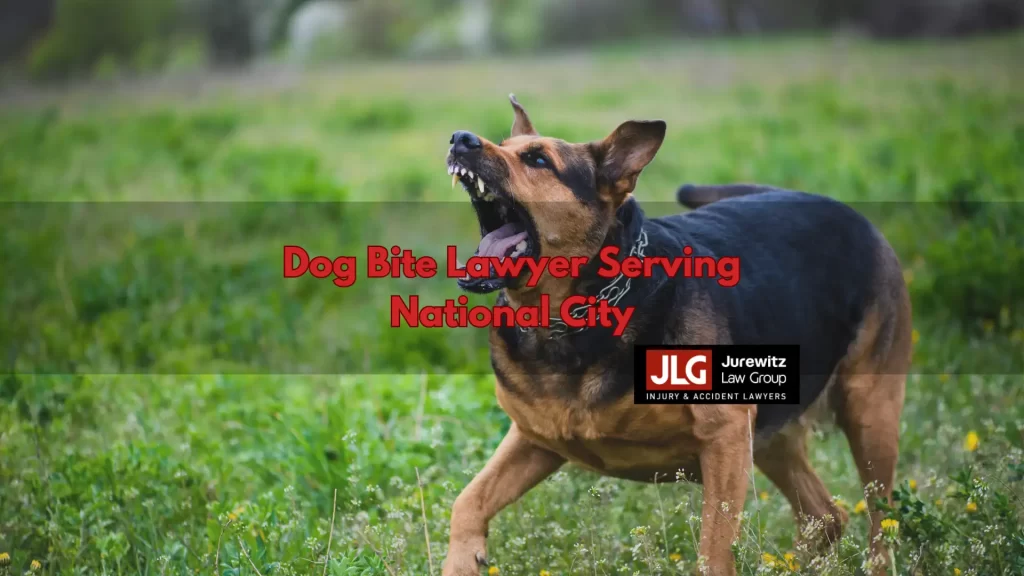 Legal Help After a Dog Attack
If you are reading this page' there is a good chance you've been attacked by a dog. You may have been in the park with your family' out at the beach with friends' or enjoying your neighbor's backyard when it happened. The dog may have been large' small' or something in-between. You may have even known the dog' or you may have never seen it before. Whatever the case may have been' you have been hurt and are suffering.
More than likely' you are wrestling with a number some questions such as:
Who is responsible for my injuries?
Should I contact an attorney?
How could this happen?
Will I ever recover?
The sad fact is' for as many responsible dog owners as there are in National City' there are just as many negligent ones. There are bad owners that fail to train their pets or abuse them. When such dogs come into contact with people other than their family' the results can be tragic. It is not unheard of for poorly trained dogs – especially certain larger breeds – to maul or even kill young children. In fact' California outranks most of the country when it comes to the number of dog bite incidents. It is only right that negligent dog owners be held accountable for their pet's aggressive and violent behavior.
If you have recently been attacked by a dog and are wondering what legal options you may have' contact Jurewitz Law Group Injury & Accident Lawyers today. Our team of National City personal injury attorneys can review your case and help you get on the road to recovery.
The number to dial (888) 233-5020.
What Kind of Compensation Could I Receive in National City?
Every year' dog attacks send thousands of people across the country to the emergency room. The types of dog bite injuries can vary from minor puncture wounds and lacerations to amputations and fatal mauling. Physical injuries are almost always accompanied by years of emotional trauma. Children who are attacked at an early age are almost always left with a serious aversion to dogs – no matter how small the animal. On top of all that' the responsible party is often a family friend or relative. This makes these kinds of attacks even more difficult to resolve.
Depending on the type of attack you or your loved one suffered' you maybe entitled to considerable monetary awards. While the amount will differ from case to case' some of the more frequent settlement categories include:
Extensive physical therapy
Specialist evaluation and care
Emotional pain and suffering
Emergency medical treatment
Loss of wages or employment
Don't Delay' Call Today
Once you have received proper medical treatment and spoken with the police' we recommend calling a dedicated personal injury team. Jurewitz Law Group Injury & Accident Lawyers has helped dog bite victims get the kind of compensation they need for over a decade.
Call (888) 233-5020 today to schedule an appointment to learn more.