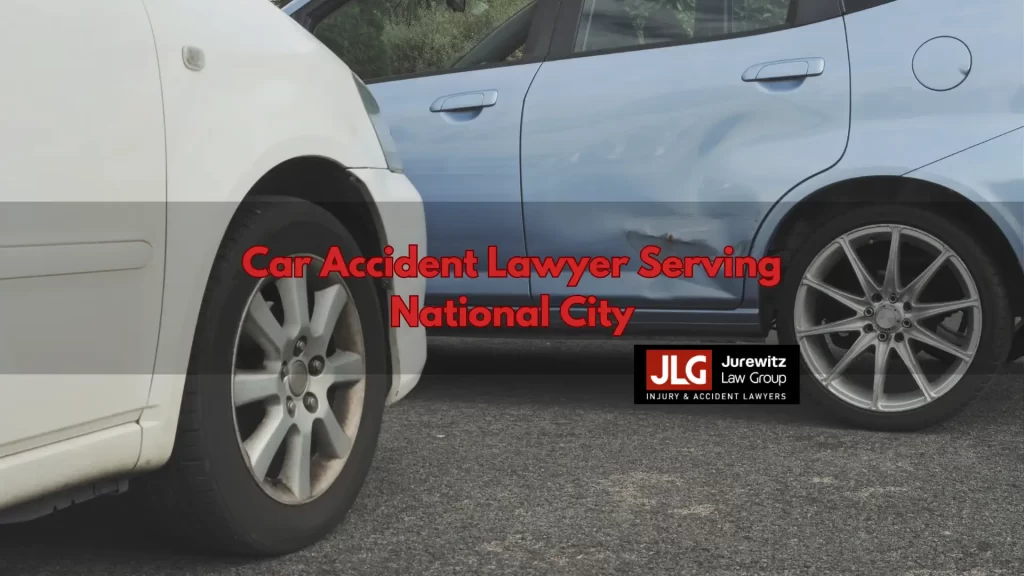 Car Crash in National City? Call Someone Who Can Help
Home to the Mile of Cars' one of the first auto malls in the world' and the Westfield Plaza Bonita shopping mall' National City is frequented by people from all around the South Bay region of San Diego County. While the level of activity in this city never quite reaches that of major metropolitan areas nearby' its roadways do get busy with all kinds of traffic at peak hours.
"National City has a relatively low frequency of auto accidents'" says car accident lawyer Ross Jurewitz. "However' what we see in our practice is that negligent drivers are typically either uninsured or underinsured. For the good of your family and others' please make sure that you are carrying enough auto insurance to pay for any potential injury you cause with your car."
Take it from a seasoned attorney who's seen too many National City victims get screwed when the driver who hit them was uninsured or underinsured. But' you're not out of luck if you don't have uninsured or underinsured insurance coverage.
To find out more about your legal rights and options' contact the San Diego offices of Jurewitz Law Group Injury & Accident Lawyers for a free consultation at (888) 233-5020.
How to Deal with Uninsured/Underinsured Motorists
If you get into an accident through no fault of your own' and the liable party is uninsured' you may receive compensation from your own insurance company for medical expenses' lost wages' and other damages' IF you have purchased uninsured motorist (UM) coverage.
Underinsured motorist coverage (UIM) comes into play when the at-fault motorist has insurance' but it does not cover the total cost of damages. For instance' if the liable person's insurance liability limit is $25'000 for each person injured' and the total amount your injuries cost you was $100'000; you can collect $25'000 from the liable person's insurance policy' and then make up the remainder of damages with your UIM coverage. However' you can only collect the difference between the total cost of your injuries and the amount you collected from the liable party's insurance. For the example above' that would be $75'000 ($25'000 + $75'000 = $100'000).
Although not required by state law' UM and UIM coverage are absolutely essential in California' since a significant percentage of the population has limited insurance or none at all. (And CA is the hit-and-run capital of America-National City itself saw at least 33 hit-and-runs in 2015 alone.) Furthermore' you don't have to worry about your premiums going up' since state law prohibits premium increases when the claimant is not at fault.
Don't Count on YOUR Insurance Company
You need $75'000 from your UM or UIM policy to cover the cost of your losses – but don't assume your insurance company is ready and willing to pay that amount.
Insurance companies don't make a profit by paying out what you really deserve. They make a profit by paying out less than you deserve. If you ask for $75'000' the claims adjuster may only offer you $35'000' saying your injuries weren't that bad. They offer a low amount so that when you object' and later they offer you $50'000' you think you're getting a good deal. Don't be duped by such tactics. An experienced motor vehicle accident lawyer will hold your insurance company's feet to the fire' and make them pay you a fair settlement.
You might be thinking' "But they're MY insurance company. I pay THEM my premiums on time. THEY send ME a calendar every Christmas. Why wouldn't THEY pay ME what I deserve?" The unfortunate answer to that question is "Because that's not how insurance companies operate." Sure' they have slogans and commercials that portray them as caring friends in your time of need' but the truth is they're businesses; they are out there to make money.
Contact Our Office
Don't get screwed by the insurance industry – neither your insurer' nor the other driver's. Instead' contact the experienced legal team at Jurewitz Law Group Injury & Accident Lawyers.
Our National City personal injury lawyers are dedicated to seeing our clients get the compensation they are entitled to.
Call our Jurewitz Law Group Injury & Accident Lawyers San Diego offices at (888) 233-5020' for a free case evaluation.