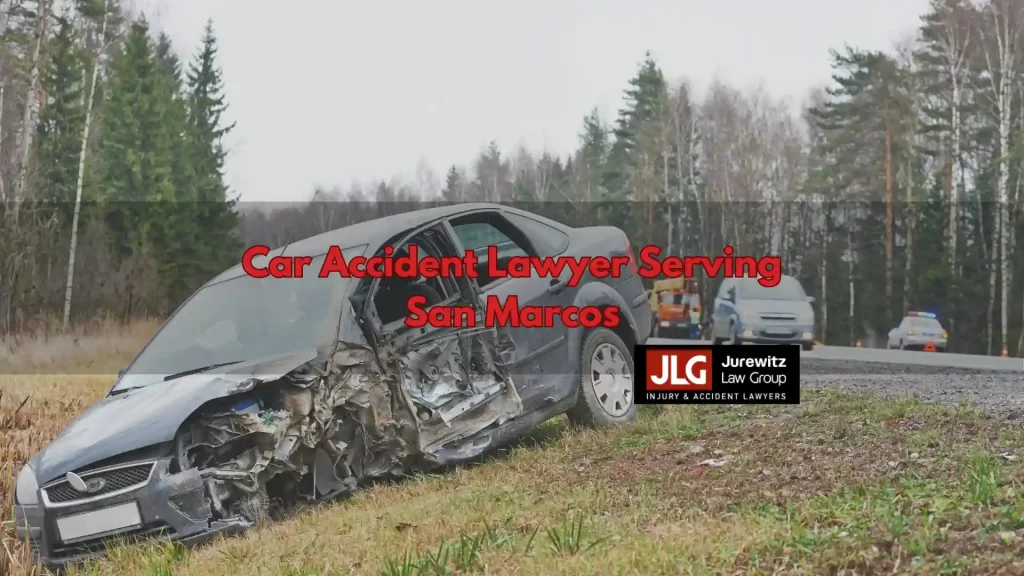 Hit by a Negligent Driver? Jurewitz Law Group Injury & Accident Lawyers Wants to Help
San Marcos is located in North San Diego County and has a population of about 93'000. The city is known for having some of the best restaurants in North County. Old California Restaurant Row features a number of restaurants offering a variety of cuisines. San Marcos has several golf courses' notably Lake San Marcos' which itself is a recreational location. The city also hosts three institutions of higher learning: Palomar College' University of St. Augustine' and Cal State San Marcos.
Like any other community with a large population' San Marcos also has many traffic accidents' and we have hospitals for that: Palomar Medical Center' North County Health Services' and Children's Medical Group. While most crashes are of the fender-bender variety' some are far more serious' especially those involving a motorcycle' or a car hitting a bicycle or pedestrian.
If you've been injured in a car accident that wasn't your fault in San Marcos' you have the right to hold the liable driver responsible for your damages and losses. But personal injury claims can be difficult' because you'll be dealing with the other driver's insurance company.
Insurance companies employ armies of lawyers whose sole job is to deny or diminish claims against them. A San Marcos accident attorney' like the ones at Jurewitz Law Group Injury & Accident Lawyers' won't let an insurance company pull something like that on their clients. If you've been injured in an auto accident and are not getting satisfactory compensation' contact the experienced legal team at Jurewitz Law Group Injury & Accident Lawyers for a free case evaluation. Dial (888) 233-5020 today. Our North County office is conveniently located at 2244 Faraday Ave.' #101 in Carlsbad. Our Downtown office is located at 600 B Street' Suite #1450 in San Diego.
Compensation for Traffic Accident Injuries
Automobiles and other motor vehicles are powerful machines' capable of wreaking severe injury and death. When they crash' they destroy lives.
Unlike some San Diego law firms who say they handle personal injury' Jurewitz Law Group Injury & Accident Lawyers exclusively represents injury victims against insurance companies. We have represented hundreds' if not thousands' of injury victims in a variety of accidents. In many cases' we are able to settle claims without filing a lawsuit. However' if the insurance company is still unwilling to provide a fair and reasonable settlement' we have extensive experience litigating injury cases and winning at trial.
We are not a high-volume law firm "mill" like those firms on television. When Jurewitz Law Group Injury & Accident Lawyers represents you' everyone in our law office will know about your case and work together to help you. We take pride in personally handling each and every client case and getting to know our clients. The positive feedback we receive from our clients' their client testimonials' and the results we obtain for them speak to our success and our reputation in the San Diego legal community' including San Marcos.