In a previous blog, we touched on how much guacamole will be consumed nationwide during the Super Bowl (that would be 8 million pounds). Chances are, when you dip a chip into the green gold this upcoming Super Bowl Sunday, you can thank San Diego County for making it possible.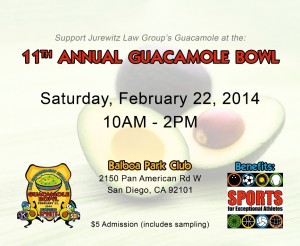 According to the California Avocado Commission, California grows about 90 percent of the nation's avocados and San Diego County grows 40 percent of California's avocados. San Diego County grows so many avocados that it has been officially dubbed the Avocado Capital of the United States.
While many people probably know that the avocado is a fruit and not a vegetable, many don't know that it is technically a single-seeded berry. We won't get into why that is, but the University of California Agriculture & Natural Resources department says that it is a fact, so who are we to doubt them?
If you are looking for the origin of the word avocado (and who isn't?), it is actually a corruption of the Spanish word aquacate, which is in turn a corruption of the Aztec word ahuacatl. If this amount of linguistic corruption disturbs you, then you can refer to the avocado as an Alligator Pear.
There are many varieties of avocado, but the most popular avocado grown worldwide is the Hass. The Hass avocado accounts for some 95 percent of the volume grown in California. Interestingly, the Hass tree was discovered in the backyard of a mailman named Rudolph Hass in La Habra Heights, California in the 1930s. Hass had the sense to patent his tree in 1935. It took awhile, but the popularity of the Hass really took off in the 1970s.
And to answer your burning question, yes, you can patent a tree.
Avocado production is labor intensive. They have to be picked by hand. What you may not know is that an avocado only ripens when it is off the tree — and avocados can stay on trees for up to 18 months.
San Diego County takes its avocado industry seriously. So seriously, in fact, that it has set up an Avocado Anti-Theft Task Force. The task force is trained to recognize the difference between commercially packaged and purchased avocados and stolen fruit. It scours the landscape for restaurants, markets, and other businesses where stolen avocados might be found.
We can go on about the virtues of the avocado: it is higher in potassium than a banana; it can be applied externally to moisturize dry skin and to repair damaged hair; and it is a good source of protein and healthy fats.
And while all those benefits are nice, we at the Jurewitz Law Group Injury & Accident Lawyers like them because they are just plain delicious. In fact, we like them so much that we're participating in the upcoming 11th Annual Guacamole Bowl, a guacamole cook-off competition taking place on February 22 at the Balboa Park Club.
So, next time you see that bowl of guacamole at a party or enjoy a sliced avocado on your salad, think of San Diego County.
Oh, and you're welcome, America.