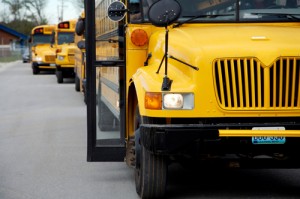 California is one of only six states that require school buses to have seat belts. Under current law, California requires three-point seat belts on all school buses manufactured on and after July 1, 2005 that carry over 16 passengers. Thanks to a recent study and recommendations by the National Highway Traffic Safety Administration (NHTSA), the rest of the country may finally catch up to California.
The NHTSA is now recommending three-point seat belts on all school buses. This is the first time they have made this recommendation. In the past, the NHTSA did not believe that the benefits of having seat belts outweighed the cost of retrofitting school buses.
It is unclear how quickly school districts will respond to this recommendation nationwide. It is also unclear if California will expand current law to force transportation companies to retrofit older buses. The vast majority of school buses in California are older and currently do not have seat belts. School buses typically stay on the road for decades, and new buses can cost up to $200,000. This makes it unlikely that school districts and transportation companies will upgrade their bus lines with newer buses for years.
The good news is that school buses continue to be the safest way for students to travel to school. NHTSA reports that about 135 people are killed in school-transportation-related crashes annually.
Students who take the bus are relatively safe even if they are on older buses without seat belts. However, injuries can and do happen. If your child has been injured in a school bus accident, please contact an experienced San Diego personal injury lawyer for more information about pursuing your legal rights.
Jurewitz Law Group Injury & Accident Lawyers can be there for your family. Contact us at (888) 233-5020 to discuss your situation.