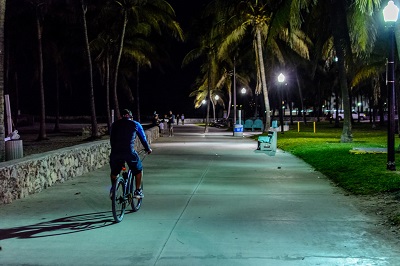 El Cajon is a lovely place to ride your bike any time of year. Whether you ride as part of your commute, or you bike for exercise, it is important that you practice safe riding habits. Always be on the lookout for drivers who aren't paying attention to bicyclists. Even though you can't prevent every single mishap, there are other steps you can take to minimize your chances of being involved in a bicycle accident.
Safety check: Before even getting on your bike, make sure the brakes work and the tires are properly inflated.
Helmet: In California, only riders under the age of 18 are required to wear a helmet. But, all bicyclists would be well advised to purchase and wear a properly fitted helmet. Your helmet is often the only thing protecting you from a catastrophic brain injury.
Be visible: It is advisable to have a white lamp on the front of your bike, a red reflector on the back of your seat, and reflectors on your pedals. If you consistently wear the same jacket or backpack, put reflective tape on them.
Following the law: All bicyclists in El Cajon have the same rights and responsibilities as drivers of other vehicles.
Using signals: It is advisable to use hand signals so that drivers know your intentions.
Distractions: Don't listen to music or talk on your cell phone while riding your bike. Avoid all distractions and focus on the road.
Route-planning: Not all roads in El Cajon are properly maintained. When choosing your route, stick to well-lit roads free of large potholes and uneven surfaces. You should also check to see if there are bike lanes nearby you can use.
Dooring: These accidents occur when drivers open their doors without looking for approaching bike riders. If a car has just parked, look out for swinging doors.
If you are injured in a bike accident, do contact an experienced El Cajon bicycle accident attorney who can help you secure the monetary support you need to recover from your injuries and losses. Jurewitz Law Group Injury & Accident Lawyers can help. Contact us today at (888) 233-5020.