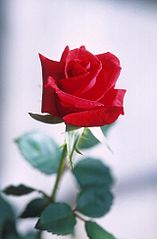 It's that time of year again when love is in the air, spring is coming and you had better not forget that Valentine's Day is on February 14.
What better way to celebrate this day of cards, romantic dinners, and hastily bought gifts at the local 24-hour convenience store than to offer you a brief history of Valentine's Day?
The origins of Valentine's Day are murky, but some experts say its origins can be traced to the Roman fertility festival of Lupercalia, which was held from Feb. 13 to 15. Of course, that feast bore little resemblance to today's observation, unless you count naked men sacrificing goats and dogs and hitting women with the aforementioned animals' hides as part of your annual Valentine's Day tradition.
St. Valentine's Day may actually have been named after two Christian men named Valentine who were executed by emperor Claudius on February 14 (in different years) in the 3rd Century AD. One legend has it that a Christian priest named Valentine (at least one of them) fell in love with his jailor's daughter and sent her a love note signed "From your Valentine," before his untimely demise.
Of course, there is absolutely no proof that any of this is true.
The Catholic Church had Lupercalia officially banned in the 5th Century as "un-Christian" and replaced it with St. Valentine's Day to be observed on Feb. 14. Valentine became a very popular saint in France and England in the middle ages.
You can thank (or blame) English author Chaucer for linking St. Valentine's Day with love. In 1381 he wrote a poem in honor of the engagement of Richard II and Anne of Bohemia in which he linked the engagement and the spring mating of birds with St. Valentine's Day.
It was a little after this that the first Valentine's Day cards started making their rounds. The oldest known valentine is now housed in the British Library in London and was written in 1415 by a nobleman imprisoned in the Tower of London. (What is it about prison and valentines?)
From those humble beginnings, Valentine's Day has become a love juggernaut in America. The first mass-produced Valentine's Day cards were made in America in 1841 and today about 145 million Valentine cards are purchased each year. The National Retail Foundation estimates that Americans will spend some $18.6 billion on Valentine's Day this year.
Whether you are in a relationship or not, the Jurewitz Law Group Injury & Accident Lawyers in San Diego hopes that you have a very pleasant and love-filled Valentine's Day.
Just one Valentine's Day suggestion, though: don't hit anybody with a goat hide.