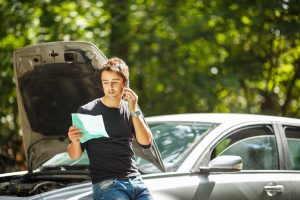 Accidents caused by someone else's wrongdoing that result in injury can be stressful. This stress only worsens when you are concerned that your insurance claim will be denied because of a pre-existing condition. Unfortunately, it is not uncommon for insurance companies to deny claims because of pre-existing conditions. Insurance companies are for-profit businesses trying to make and save money. When your insurance claim is rejected because of a pre-existing condition, you should not lose hope or give up on getting the compensation you deserve.
What Is a Pre-Existing Condition?
A pre-existing condition is a mental or physical condition that someone had before they sustained a new injury. Typically, an insurance company will attempt to use the pre-existing condition to get out of paying the injured party compensation. Examples of pre-existing conditions are:
Asthma
Joint problems
Back problems
Neck problems
Knee problems
Anxiety
Depression
PTSD
If you suffered from a pre-existing condition before you were injured in an accident caused by someone else, an insurance company might try to deny your compensation claim. Luckily, they cannot deny the claim just because you have a pre-existing condition. However, they can deny a claim if you seek compensation for an injury you sustained before their insured's negligent actions.
What to Do if Your Claim Was Denied Because of Your Pre-Existing Condition
You do not have to accept the insurance company's claim denial. Instead, you can fight the denial by proving that the injury you seek compensation for is not a pre-existing condition. Additionally, if your pre-existing condition was stable before the events leading to the insurance claim, you may be entitled to compensation if you can show that the accident aggravated your prior condition. If the insurance company is not budging on reversing its denial of your claim, you can file a personal injury lawsuit against the insurance company and the negligent party.
How to Show Your Claim Is Not Based on Your Pre-Existing Condition
An insurance company cannot deny a claim simply because someone has a pre-existing condition. If you are seeking compensation for an unrelated injury caused by their insured's negligence, you are entitled to compensation. One way to get an insurance company to reverse a denial based on your pre-existing condition is to show that the pre-existing condition is not related to the injury caused by their insured. For example, you can show that your current injury and the pre-existing condition are unrelated with the following:
Medical records: Your medical records will show the history of the injury outlined in your claim and your pre-existing condition. The history will usually include diagnosis, treatment, recovery progress, and the doctor's notes concerning the injuries. As a result, medical records are useful in showing whether the injury being claimed relates to the pre-existing condition.
A statement from your doctor: If your medical records do not clearly show that the injuries are not related, or if the insurance company is reluctant to accept the claim, you can request a recorded or written statement from your doctor concerning the injuries. In the statement, your doctor will give their opinion on whether the injury claimed is related to the pre-existing condition.
Aggravation of Your Pre-Existing Condition
An insurance company does not have the right to deny your claim based on a pre-existing condition if the accident caused your pre-existing condition to worsen. Like many other states, California follows what is known as the "eggshell plaintiff doctrine." Under this doctrine, a defendant takes the plaintiff as they find them, even if they were delicate or had a pre-existing condition.
As a result, an insurance company may not escape liability by claiming you had a pre-existing condition if you can show the following:
Your pre-existing condition was stable when the event occurred
Before the incident, there was no reason to believe that the status of the pre-existing condition would change
After the accident, your condition worsened
Recoverable Compensation
If you were injured because of someone else's negligence and the injury is not related to your pre-existing condition, or the incident aggravated the pre-existing injury, you may be entitled to the following compensation:
Medical expenses
Lost wages
Lost or reduced capacity to earn
Pain and suffering
Property damage
Contact a Personal Injury Attorney Today
Don't let an insurance company deny your claim because of an unrelated or aggravated pre-existing condition. The San Diego personal injury attorneys of Jurewitz Law Group Injury & Accident Lawyers will review your case and help you fight an insurance company's unfair denial. Contact us today for a free consultation by calling us at (619) 233-5020 or through our online form.
Related Posts:
What Happens When a Car Accident Claim Exceeds Insurance Limits
How to Scare an Insurance Adjuster