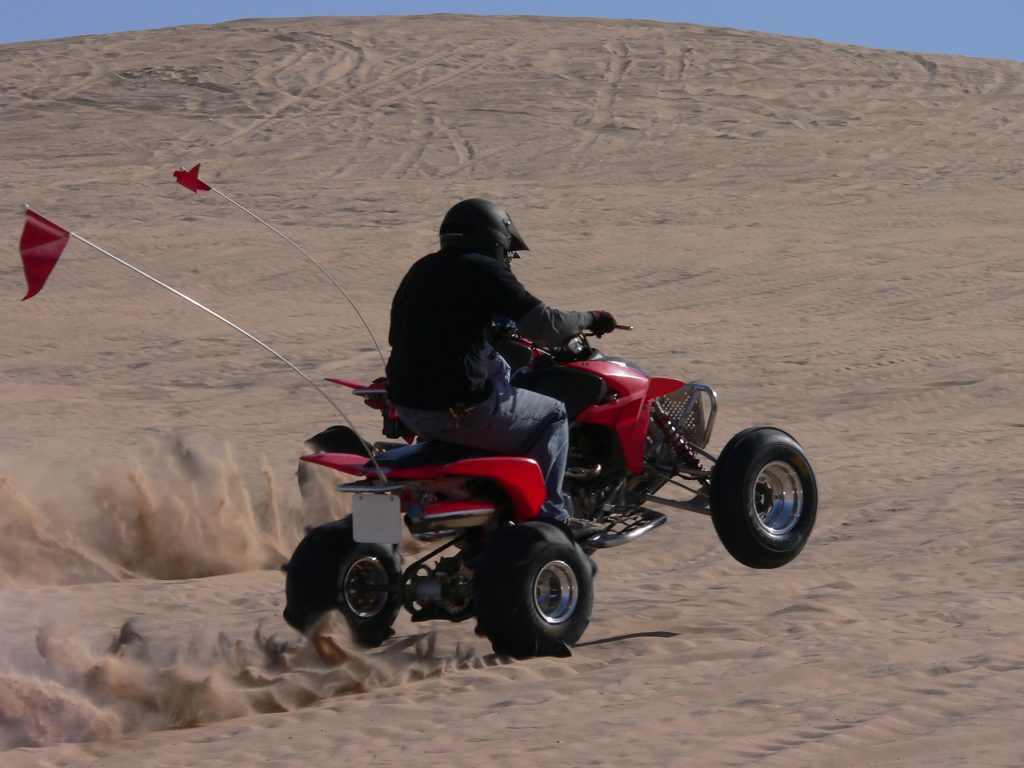 California, with all of its national and state parks and protected recreational areas, is a popular place for outdoor activities. Of those, operating all-terrain vehicles (ATVs) can be both exhilarating and dangerous. That's why everyone—experienced drivers and novices alike—can always do with a reminder of best practices when using ATVs.
What Are Recreational Vehicles?
California has separate designations for recreational vehicles, and owners and operators need to make sure they are properly following state regulations. Off-highway vehicles (OHVs) are any motor vehicles that are being operated away from publicly maintained roadways. These include ATVs, dirt bikes, sand rails, recreation utility vehicles (RUVs), golf carts, snowmobiles, go-carts, jeeps, and 4x4s.
When it comes to ATVs, California Vehicle Code (CVC) 111 defines them as: "fifty inches or less in width; nine hundred pounds or less, unladen; three or more low pressure tires; a single seat designed to be straddled by the operator, or a single seat designed to be straddled by the operator and a seat for no more than one passenger; [with] handlebars for steering control."
Registration
All OHVs require registration when they are being operated on lands that are open to the public for OHV recreation. This applies to both public and privately owned land. Your vehicle must be clearly marked with either a highway license or an OHV sticker, the latter of which comes in several classifications depending on the vehicle and how you intend to use it.
Safety Tips
Once you are properly registered to operate your ATV in California, you'll want to follow some basic but important safety guidelines.
Make sure you are wearing proper attire, including a helmet, goggles, long sleeves and pants, boots, and gloves.
Pay close attention to the passenger guidelines and never carry more than the recommended number of passengers. This is especially true with young riders, since children are the most likely to be seriously injured in an off-road accident.
Never operate an ATV or other OHV while under the influence of alcohol or drugs. California has the most annual fatalities due to ATV accidents, and a significant percentage of those are due to the operator being impaired.
Other common accidents involving ATVs include rollovers and collisions, both of which can occur because of driver negligence or because of mechanical malfunctions, making it difficult to prove who was at fault.
If you or a loved one has been injured in an ATV accident, you need a California personal injury lawyer who can help protect your rights. Dealing with insurance companies and ATV manufacturers can be especially complicated. Contact the Jurewitz Law Group Injury & Accident Lawyers at (888) 233-5020 to schedule a free consultation.