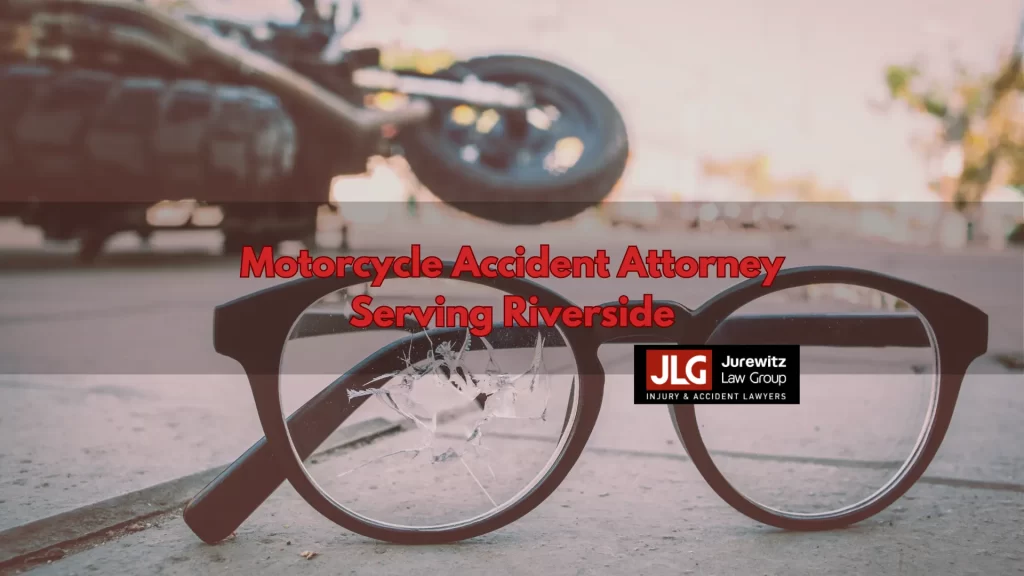 Were You Injured in a Collision? Jurewitz Law Group Injury & Accident Lawyers Can Help
Southern California is known for its motorcycle culture, and Riverside is no exception. Many residents either ride motorcycles exclusively or as a pastime. The city and its surrounding areas are perfect for scenic rides on the open highway. Unfortunately, there are also a high number of accidents involving motorcycles every year.
Motorcycles have all the same rights to the road that automobiles have. Moreover, other drivers have a responsibility to drive safely to help ensure the well-being of motorcyclists. That's because motorcyclists are extremely vulnerable and much more likely to sustain serious injuries after a collision.
If you or a loved one has been injured in a motorcycle accident, the compassionate legal team at Jurewitz Law Group Injury & Accident Lawyers is eager to help. Our Riverside personal injury attorneys have dedicated their careers to helping victims like you recover every penny they are entitled to. Contact us today at (888) 233-5020 to learn more.
Riverside Is Not as Peaceful as It May Seem on the Surface
Compared to neighboring Los Angeles and San Diego, Riverside may seem small. But as the largest city in the Inland Empire, its population of 300,000 makes it the 12th largest city in California and the 59th largest in the United States. As Riverside is located in Southern California, it goes without saying that heavy traffic is a serious problem.
Riverside has a number of interstates that pass through, namely the 215, the 15, and the 10, in addition to state route 91. Not only does the area see plenty of commuter traffic twice a day, but also a constant stream of commercial traffic, such as tractor-trailers, delivery trucks, construction vehicles, military vehicles, and more. All of these vehicles lead to congestion, traffic jams, and an increased risk of accidents for bikers.
Motorcycle Accidents Can Lead to Serious Injuries
According to statistics from the National Highway Traffic Safety Administration (NHTSA), 13.10 cars out of 100,000 were involved in fatal crashes in 2006. For motorcycles in the same year, the rate was 72.34. If you do the math, motorcycles have a 35 times greater risk of a fatal crash than a car.
Some people might regard these numbers as proof that motorcyclists are engaging in dangerous behavior. The truth is far from this stereotype. Most bikers tend to be very safety conscious, because they understand the dangers firsthand. In actuality, the increased risk arises from the fact that people on motorcycles are more exposed than people in automobiles.
Along with the exposure, motorcycles are also less visible on the road. It's easier for them to get lost in blind spots or get cut off at intersections. When drivers of parked cars open their doors into traffic without noticing a motorcycle in their rearview mirror, it can also cause a crash. Common motorcycle-related injuries are road rash, broken bones, spinal trauma, and traumatic brain injuries.
Get Help Today
If you or a family member has been injured in a motorcycle accident due to someone else's negligence, California law is on your side. Before you agree to any settlement, consult with an experienced Riverside motorcycle attorney who isn't beholden to the insurance companies. You are entitled to be fully compensated for your injuries, including your hospitalization fees, medication, rehabilitation, lost wages, and more.
At Jurewitz Law Group Injury & Accident Lawyers, we want to keep the roads safe for motorcycles. Call us today at (888) 233-5020 to schedule a free consultation.