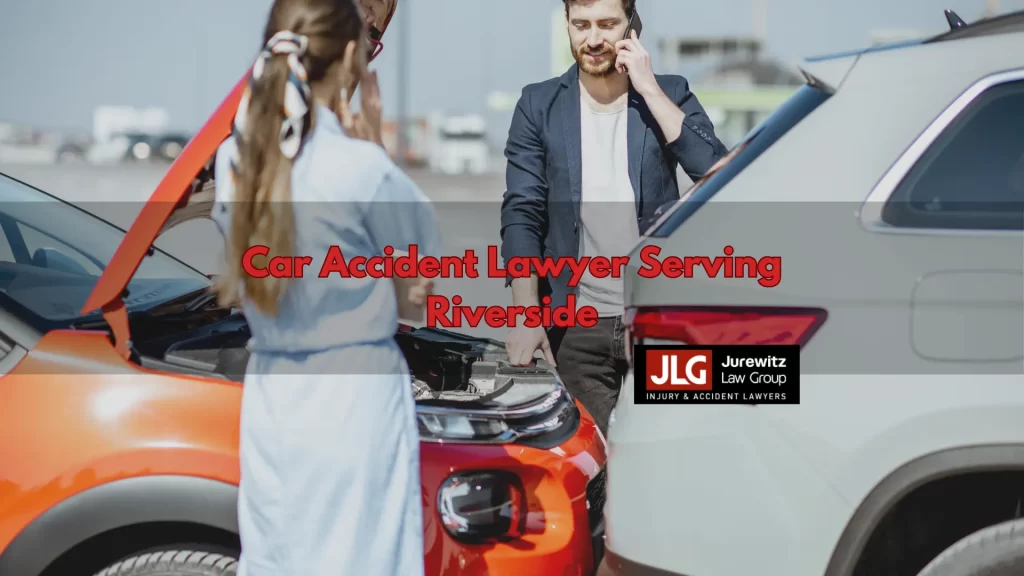 If You Were in a Collision in Riverside, We Want to Help
We like to think that our city of Riverside is relatively safe, especially when compared to other parts of Southern California. But all that can change in an instant. Traffic accidents can strike any time, especially on the 91 and the 215, and for victims, the impact can last a lifetime.
Fortunately, California has laws that are meant to protect victims of automobile crashes, especially when they are the result of someone else's negligence. If you or a loved one has been injured in an accident in Riverside, the dedicated legal team at Jurewitz Law Group Injury & Accident Lawyers is ready to help.
Call us today at (619) 233-5020 to schedule a free case evaluation.
Riverside May Not Be as Safe as You Think
Of course, all of Southern California is plagued by bad traffic, and we're not just talking about congestion. But the situation in Riverside is particularly worrying. According to statistics on Riverside County's website, there were more than 26,000 collisions in the county in 2017. The number of reported accidents has increased every year since 2011. While some of these accidents are minor, there are a significant number of serious injuries, including a reported 274 fatalities in 2015.
These accidents occur for a number of reasons. The leading cause is excessive speeding, which should come as no surprise. Almost as many incidents are the result of driver error, such as improper turning, unsafe lane changes, or failure to correctly yield to the right of way.
Another serious factor in Riverside car accidents is driver intoxication. This means more than just alcohol impairment: many prescription medicines can make it difficult to properly operate a vehicle as well. And, with cannabis now legal in California, drivers have to worry about unsafe driving as a result of marijuana consumption. Although California has strict penalties punishing anyone convicted of driving under the influence, this is of little comfort to victims who have been injured in DUI accidents.
With the proliferation of cell phones and other mobile devices, driver distraction is also a growing problem. This can take many forms, including texting or talking on the phone, using a GPS device, adjusting the radio or other dashboard controls, applying makeup, or handling food or beverages. Another source of distraction can come from interacting with passengers, especially young children. No matter the reason, when drivers fail to pay attention to the road, accidents are likely to occur.
What Can Accident Victims Do to Protect Themselves?
If you have been seriously injured in an accident, you can't rely on your insurance company to look out for your best interests. They are more worried about protecting their bottom line than their customers. Before you agree to any kind of settlement, you should always consult with an experienced Riverside personal injury attorney to make sure you aren't leaving money on the table.
The sooner you contact us, the sooner we can investigate the circumstances surrounding your car or truck accident. We'll get to work speaking with witnesses, looking at cell phone records, and whatever else we can do to build a strong case against the at-fault driver. We're prepared to take your case to trial if we have to, and we'll make sure you don't have to accept an offer that's less than you're entitled to.
The cost of recovery can be high. Hospitalization, rehabilitation, and prescription medicines are skyrocketing in California. But victims must deal with more than just the medical costs associated with an automobile accident. They must also contend with missed time from work, lost wages, and the pain and suffering that comes with severe injuries. We believe that victims deserve compensation for all of these things.
The Riverside car crash lawyers of Jurewitz Law Group Injury & Accident Lawyers aren't afraid to take on big insurance companies. That's how we've helped numerous accident victims recover for their losses. We want you to be able to concentrate on what's really important: rebuilding your life. To schedule a free consultation, call (619) 233-5020 today.