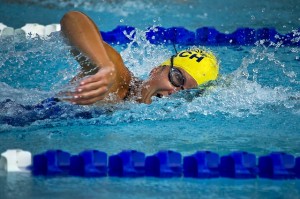 So, what are you planning to do with your summer in ten years?
If the San Diego 2024 Exploratory Committee has its way, you just might be coming to our fair city to watch people throwing metal balls great distances or catch very fit men and women diving from dizzying heights into the water.
In June, we will know if we have made the short list of U.S. cities that will be considered to host the 2024 Summer Olympics. The United States Olympic Committee (USOC) has said that it will narrow down its choice to three U.S. cities that will be considered to host the games.
Besides San Diego, the list of cities currently being considered reportedly includes Boston, Dallas, Los Angeles, Philadelphia, Washington D.C. and San Francisco. Exploratory Committee members think San Diego has a pretty good shot at being on the list of finalists. The USOC has said that it will narrow its choice down to one city by the end of the year.
San Diego is serious about getting the bid. In April, the Exploratory Committee submitted an 80-page proposal to the USOC, outlining why it thinks San Diego should be the place to host the international games.
Originally, San Diego had proposed to co-host the games with Tijuana, Mexico, but that idea was subsequently dropped. Vincent Mudd, the chair of San Diego's Exploratory Committee, believes that San Diego is a natural choice to host the Olympics.
"We're already such an amazing destination city," he said. "We've hosted multiple bowl games. We've hosted a Super Bowl. We've invented sports, like the Triathlon and the Iron Man, and we actually have venues that the public has already built."
He claims that San Diego has the infrastructure and transportation needed to support the thousands of people who will flood the city to see the games. "Sochi, as you know, had to build 41,000 hotel rooms because the Olympics requires 43,000 three-star and above hotel rooms. San Diego has 46,000 three-star and above hotel rooms."
While many of the venues for events have already been built, San Diego would need to build some venues, like a track and field stadium. Mudd estimates it would cost the city some $4 billion to host the Olympics in 2024.
Just talking about this gives the attorneys at the Jurewitz Law Group Injury & Accident Lawyers Olympic Fever — and the only cure might be found in San Diego in 2024.