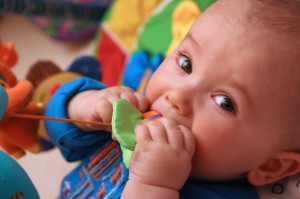 The BreathableSack wearable blanket was recently recalled because it may pose a choking hazard for the infants who use it, according to a report by the U.S. Consumer Product Safety Commission (CPSC).
The BreathableSack is a sleeveless blanket that infants can wear. They were sold in two sizes: small, for 10-18 pound babies, and medium, for 16-24 pound babies. They were also made available in three colors and with various animals stitched on the left side of the blanket.
The blankets have been recalled because the items in one lot, Lot 124, have zipper pulls that may break or detach, resulting in small parts that can be swallowed and choked on. Parents and caregivers can find the lot number of their baby's BreathableSack by checking the tag inside the garment. The tag on the recalled blankets reads "Date of Manufacture: 04/17/2012, Lot No. 124" and has washing instructions on the back.
To date, no injuries related to the blankets have been reported to the CPSC. However, parents and caregivers can report any injuries to the CPSC by visiting cpsc.gov.
Only the blankets in Lot 124 have been recalled. The recall affects about 15,000 of the wearable blankets purchased by families across the United States. The BreathableSack was sold online and in various stores from June 2012 to August 2013 for approximately $20.
Families with a recalled blanket should stop using it immediately and contact the company to request a replacement blanket. The company can be contacted online at www.breathablebaby.com.
If your loved one has been injured by a defective child product, call the experienced San Diego product liability attorneys at Jurewitz Law Group Injury & Accident Lawyers for a free and confidential case evaluation.