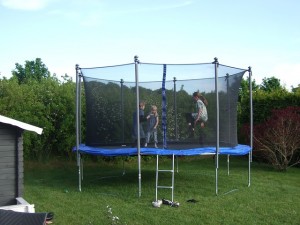 The saying is: it's all fun and games until somebody gets hurt. Sometimes, it seems like that saying was specifically coined with home trampolines in mind. A new study, published in the Journal of Pediatric Orthopedics found that more than a quarter of a million people went to emergency rooms in a ten-year period after sustaining bone fractures while playing on trampolines.
Sadly, children were usually the victims of these injuries.
While a majority of fractures (60 percent) involved injuries to forearms, fingers, hands, elbows, legs, and ankles, some were more serious and included fractures to the spine, head, ribs and sternum. Over the ten years covered by the study 2,807 serious spinal fractures were reported.
All in all, between 2002 and 2011, some one million trampoline-related emergency room visits were reported. Of those visits, 288,000 involved bone fractures. The average age of those injured was nine years old. However, the average age of those who suffered serious skeletal injuries was 16 years old.
Health and safety experts have long been saying that there is no way to make home trampolines safe and that parents should simply not allow them in their own backyards. The American Academy of Orthopedic Surgeons and the American Academy of Pediatrics have both strongly advised against home trampoline use. The lead researcher of the current study went so far as to recommend that home trampolines should be banned completely.
Researchers indicated that the costs of trampoline emergency room visits over the ten-year period covered were more than $400 million. However, the study did not delve into the costs associated with surgeries, physical therapy or long-term care not associated with emergency room care. Nor did it cover care that might have been sought outside of emergency room settings, such as in urgent care centers or with family physicians.
If your child has been seriously injured on an unsafe trampoline, you should contact the product liability attorneys at the Jurewitz Law Group Injury & Accident Lawyers in San Diego. You may be entitled to compensation for hospitalization, medical bills, and other damages. Call us today at (888) 233-5020 or contact us online to learn about your legal rights.