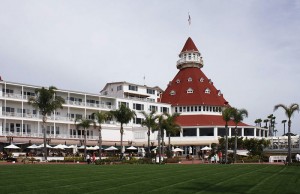 There's no better time than Halloween to gather with friends and family and get scared out of your wits. Some partake in the frightful festivities by holding horror movie marathons at home, while others go to theme parks to check out elaborate set pieces of nightmares brought to life.
As for you and your thrill-seeking pals, movies and mazes just don't do it. You wish for a truly bone-chilling experience, the kind you'll never forget. Well, if that's the case, then you should test your mettle at one of the notorious haunted spots in San Diego listed below. You may just end up finding out why it is people say, "Be careful what you wish for …"
Mt. Helix Cross
Mt. Helix Park is a popular San Diego County landmark for family picnics and weddings. The serene beauty of the landscape lends itself to joyous occasions and romantic breaks. However, not all is fair and well in Mt. Helix Park. Some say they have heard the sounds of a woman sobbing under the Mt. Helix Cross but couldn't locate the source. Others claim they've seen a weeping woman dressed in Victorian-era garb who disappears upon closer inspection.
Hotel Del Coronado
The picturesque seaside hotel, which opened back in 1888, has established itself as one of southern California's best getaway spots. It boasts a spa, fine dining and other luxurious features that keep vacationers coming back. Some say the biggest testament to the hotel's success is the presence of those guests who have never checked out, so to speak … Though they no longer occupy any of the rooms, or our world for that matter, their spirits can still be heard, felt or even seen wandering the hotel.
Del Mar Racetrack
It might be strange to think of such a raucous and lively place as a racetrack to be haunted, but employees say that they've heard voices out of nowhere, felt unexplained cold spots and dealt with unruly elevators among other spooky incidents. Historically, the race track was once a favorite haunt (pun intended) for old Hollywood types. Perhaps they've come back to keep the good times rolling.
Do you know of any good haunted spots in San Diego County? Please share them with us on the Jurewitz Law Group Injury & Accident Lawyers Facebook page.