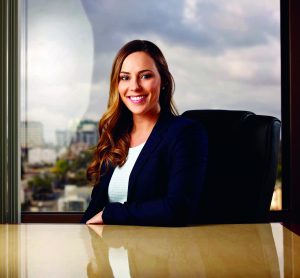 By: Stacey O'Neill, Jurewitz Law Group Injury & Accident Lawyers
Your client is rear‐ended by a semi‐truck on the interstate leaving her with millions of dollars in damages. One of your first steps is to determine how much insurance liability coverage the semi‐truck had at the time of the collision. After retaining the client, you discover the semi‐truck had only one‐ million dollars in liability coverage, which is woefully inadequate to cover your client's lifelong injuries.
So, what do you do?
Look for additional sources of insurance and liability. That may be found in the broker who hired the motor carrier. Many truck accidents involve a broker, so this will often be a possible avenue to pursue.
Under 49 U.S.C. § 13102(a)(2) a broker is defined as "a person, other than a motor carrier or an employee or agent of a motor carrier, that as a principal or agent sells, offers for sale, negotiates for
sale, or holds itself out by solicitation, advertisement, or otherwise as selling, providing, or arranging for, transportation by a motor carrier for compensation."
A "motor carrier" is defined as "a person providing motor vehicle transportation for compensation." A broker acts as an intermediary between the motor carrier and the shipper. 49 U.S.C. § 13102(a)(14).
Basically, the broker facilitates the motor carrier picking up and transporting the goods being shipped. Brokers try to keep their costs down and thus may hire smaller, less reputable trucking companies to ship the load. In pursuing a case against a broker, the following theories should be considered to establish liability against the broker.
1. The Broker is Acting as a Motor Carrier
Brokers may argue that they cannot be considered a motor carrier because they do not own the semi‐ truck involved in a collision. Not true. A broker may qualify as a motor carrier when it assumes the responsibilities of a motor carrier within a transaction.
The broker cannot evade liability by merely delegating performance to a trucking company. Section 428 of the Restatement Second of Torts states, "An individual or a corporation carrying on an activity which can be lawfully carried on only under a franchise granted by public authority and which involves an unreasonable risk of harm to others, is subject to liability for physical harm caused to such others by the negligence of a contractor employed to do work in carrying on the activity."
Some factors to be considered in determining whether a broker is considered a motor carrier are when the broker negotiates or sets the price of the goods or guarantees delivery of a load. A broker who guarantees delivery of the load exposes itself to liability under 49 CFR § 371.2(a), which states that "Motor carriers, or persons who are employees or bona fide agents of carriers, are not brokers within the meaning of this section when they arrange or offer to arrange the transportation of shipments which they are authorized to transport and which they have accepted and legally bound themselves to transport." (Emphasis added.)
Whether a broker is acting as a motor carrier will be a case specific analysis, based on the facts of the case, and one that should be considered when pursing liability against a broker.
2. Negligent Hiring and Supervision
The broker can also be held liable for their own negligent conduct. While generally a party will not be held liable for the negligent acts of its independent contractors, there are exceptions to that rule.
Section 411 of the Restatement Second of Torts provides that "[a]n employer is subject to liability for physical harm to third persons caused by his failure to exercise reasonable care to employ a competent and careful contractor (a) to do work which will involve a risk of physical harm unless it is skillfully and carefully done, or (b) to perform any duty which the employer owes to third persons." Trucking is considered an activity that involves a risk of physical harm, unless skillfully and carefully done.
Nevertheless, brokers have an interest in keeping costs down, and they may hire low‐cost truckers. These low‐cost truckers often come with poor safety ratings. Brokers can review the safety rating of the trucking company they hire to assess whether they have repeated violations and a poor safety rating, or even no rating at all. Brokers have a duty to ensure they are not hiring an unsafe company.
Propound discovery to determine what type of safety violations the trucking company had and what steps were taken by the broker to ensure the company they hired was not unsafe. If they failed, negligent hiring and supervision may likely be another basis for pursing liability against the broker.
Trucking accidents can be especially devastating. All avenues should be considered to obtain full value for your client's injuries, and these are a few avenues to locate additional sources of recovery for your injured clients.