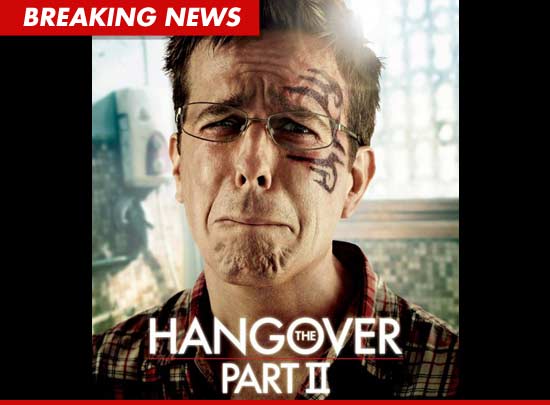 Stuntman Scott McLean' the stunt double for Ed Helms in The Hangover 2, is suing Warner Bros for an undisclosed amount for injuries he sustained during a high-speed stunt-gone-wrong during the filming last year in Bangkok' Thailand. McLean filed a lawsuit in California federal court on Tuesday' August 30th.
The stuntman claimed he was hurt during a stunt where he had to lean out of the window of a moving truck. According to McLean' another car involved in the stunt skidded out and crashed' resulting in a major collision. This was due to a last-minute change in timing by the stunt' which was the cause of the car accident.
McLean's reps say that he suffered permanent brain and physical injuries' including ongoing seizures' speech impediments' physical impediments' and brain trauma.
A representative for Warner Bros. has responded by saying that the company is very saddened by the accident and has been actively working with McLean and his family throughout his treatment and recovery from the head injuries he sustained on set.
Contact a California Traumatic Brain Injury Attorney
If you or someone you love is suffering from a traumatic head injury caused by a serious accident in the San Diego area due to someone else's negligence' contact a head injury attorney immediately. If not treated immediately' trauma to the head can lead to significant' long-term consequences. Call the experienced TBI/MTBI attorneys at the Jurewitz Law Group Injury & Accident Lawyers at 888-233-5020 to get you the reparations you need to cover your medical bills.