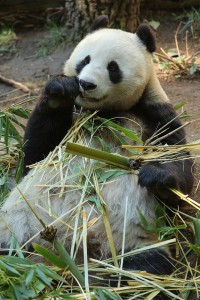 Ask people across the nation what springs to mind when the city of San Diego is mentioned and they will most likely say the Jurewitz Law Group Injury & Accident Lawyers in San Diego and how we protect your legal rights. We are thinking a distant second would be the San Diego Zoo.
The San Diego Zoo, located in beautiful Balboa Park, is the go-to destination for tourists and locals alike (to the tune of an average of 5 million visitors each year). The zoo houses more than 3,700 animals from 650 species and contains some 700,000 plant species. To get a perspective on the size of the San Diego Zoo, just contrast it with the Los Angeles Zoo which houses 1,100 species and sees 1.5 million visitors annually.
The zoo was the brainchild of Dr. Harry M. Wegeforth. In 1916, the Panama-California Exposition was being held in Balboa Park and he was concerned about what was going to become of the exotic animals that had been brought for display at the expo. So, he formed the San Diego Zoological Society and in 1923 the San Diego Zoo became a reality.
Now here's a fact we really love about the zoo: in 1928, the first Galapagos tortoises arrived in San Diego. Nine of the zoo's original tortoises are still alive and well. One of the tortoises named "Speedy" arrived here in 1933, and was estimated to be in his 60s then. That would make him 140-years-old today. Chances are his parents were around to greet a certain gentleman named Charles Darwin when he came to visit the islands in 1835.
During the Depression, the zoo hit some hard times and the animals and the property were put up for auction. Fortunately for San Diego, no bidders showed any interest.
The zoo is not only a place where tourists can see exotic animal species from around the world, but it is also a world-class center for breeding and conservation. The zoo established the Center for Reproduction of Endangered Species in 1975 (now called the Institute for Conservation Research) that boasts having reintroduced 33 species back into the wild. It was instrumental in saving the California Condor from extinction.
Oh, and for all of you New Guinea Singing Dog fans, the San Diego Zoo has seven of them, which happens to be the largest number in one place in the entire world.
Although we are aware that the San Diego Zoo may not be as popular as the Jurewitz Law Group Injury & Accident Lawyers, that shouldn't stop you from visiting it when you come to our beautiful city. Enjoy their tour bus, because we don't have one.