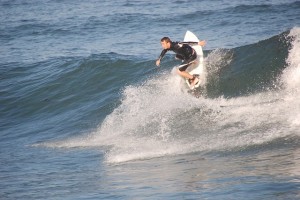 Thirty-three million people visited San Diego last year and the Jurewitz Law Group Injury & Accident Lawyers in San Diego is sure that more than a few of them came to hit our amazing beaches, sit in the sun, and maybe do a bit of surfing.
Let's face it: San Diego is synonymous with surfing and the surf culture. The sport was introduced at the San Onofre Beach Fishing Camp 75 years ago and it has been going strong ever since. In 2012 some 300,000 people visited the famed Trestle surf break at San Onofre State Beach.
And we take our surfing seriously. So seriously, in fact, that San Diego State University is the site of the Center for Surf Research, which describes itself as "THE international hub for research on sustainable surf tourism and issues of sustainability affecting the industry and broader community."
The Center for Surf Research's Director, Jess Ponting, earned the first PhD to focus on sustainable surf tourism management after seeing that natives in poorer areas were in danger of being exploited and their beaches destroyed by visiting surfers looking for the perfect wave.
The city of Oceanside is the site of the California Surf Museum. It was founded in 1986 and the museum estimates that nearly 500,000 people have stepped through its doors since its opening. One of the co-founders, Stuart Resor, said he got the idea for the museum after he saw a surf legend walking down a beach in Leucadia and realized that the early days of surfing were "slipping behind us."
The Mingei International Museum in Balboa Park just recently launched an exhibit on surfboard design, called SURF CRAFT, which will run through January 11, 2015. Mingei is also touting its Summer Surf Series, which will feature events planned in conjunction with the SURF CRAFT exhibition — every Thursday night until August 21.
Jane Schmauss, historian and co-founder of the California Surf Museum probably summed it up best when she described the importance of surfing and beaches in San Diego.
"Our resource is the ocean. Our playground is the ocean. People in the Midwest have their rivers and their lakes, and we have the sea," she told the San Diego Union-Tribune. "Take away the beach from San Diego, and what do you have? You wouldn't have San Diego."