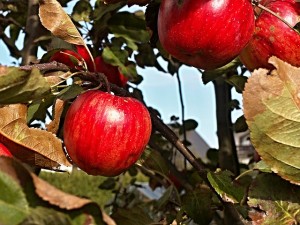 As much as the attorneys at the Jurewitz Law Group Injury & Accident Lawyers in San Diego love the summer and all our fair city and surrounding area have to offer during the season, we also love it when things calm down a bit. We can take a breath and then go to some great San Diego-area fall events.
Now that summer is winding down, here are a few ideas of what you can do during San Diego's "shoulder season" (yes, we didn't know what that meant either, but after intrepid investigation, we found out "shoulder season" is a travel period between peak and off-peak seasons. Now, go and impress your friends with your vast knowledge.)
Here are a few festivals and events you might want to check out:
Julian Apple Harvest. If you like apple pie or all things apple-related, then stop by the Julian Apple Harvest, which runs from September through mid October. There will be live entertainment and, if you feel so inclined, you can even pick your own apples at a local orchard — just make sure you ask first.
San Diego Restaurant Week. If you have been meaning to visit a restaurant that may be a bit out of your budget, then San Diego Restaurant Week (Sept. 21-26) might be what you're waiting for. Over 180 participating restaurants in the area will be offering discounted prix fixe menus. A three-course dinner could run you as little as $25. Two-course lunches will run as little as $10. No tickets involved; just make a reservation at a participating restaurant.
The San Diego Festival of Beer. Yes, that is a pretty straightforward description of this festival that is celebrating its 20th anniversary this year. (Don't worry, wine drinkers, the festival will have you covered, too.) If you are looking for craft beers from 52 different craft breweries, then this is the place you want to be.
Mark it down on your calendars: It will be on the Broadway Pier and will be chugging along (see what we did there?) from Sept.19-21. Oh, and by the way, it is a cancer-fighting fundraiser that has raised over $600,000 for various charities.
There are many other fall events and festivals in and around San Diego during "shoulder season" (we just love saying that). You can go to sandiego.org to find out more.
You might just run into us this September sampling craft beer and fighting cancer at the same time. Seriously, it really doesn't get any better than that.