Our firm was contacted by our friends at the Rasansky Law Firm yesterday for a special favor to help their client and we want to share it with you. Before going any further, here is what happened on June 17, 2014:
During nap time at the Heart2Heart Montessori Academy in Willow Park, two young boys were forcefully "duct-taped" over their blankets to their nap mats by one of the Academy's owner, Pamela Decker, after both boys refused to take their nap. After staff members witnessed Decker's behavior, Decker told staff members not to talk about what she did since she knew it was illegal. Shockingly, she still repeated the method to another child and stated that she had resorted to disciplinary duct-taping before to staff members. Out of concern for the children, a former staff member took pictures that quickly circulated to parents and the media.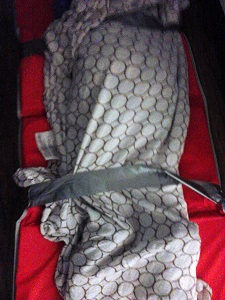 Sadly, this was not the only abusive incident to occur at Heart2Heart. It was also reported that the day care center would purposely limit water intake for toddlers to twice a day (for about 3 seconds each time), in an effort to reduce diaper changing and there was another instance when a child was isolated (with no supervision) in a dark room during lunchtime because he was crying for his father.
Although investigation is still underway, Heart2Heart Montessori Academy is still operating and disciplinary action has yet to be taken on the day care center by the state child care licensing agency. One of the children involved is currently represented by the Rasansky Law Firm, who filed a lawsuit against Heart2Heart on his behalf.
Stand Up and #StopDaycareAbuse
This is why the Rasansky Law Firm needs our help! To send a loud message that childcare abuse and neglect is not tolerated and to enforce appropriate disciplinary action and/or forced closure to establishments that harm innocent children, they need YOU to sign their petition HERE.
We signed it. Will you please sign it too?