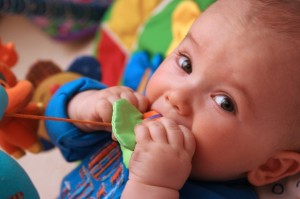 Is a popular Fisher Price toy too dangerous to be sold? That's what parents across the nation are asking about the company's Soothe & Glow Seahorse, according to a story that aired on ABC 10 News in San Diego.
The toy is a top seller on Amazon and has been the subject of dozens of negative reviews and at least 10 complaints to the Consumer Product Safety Commission (CPSC).
Parents have complained that the battery compartment allegedly gets dangerously hot, which causes the toy to smoke and cause fire and burn hazards.
If true, this is especially disconcerting considering that the toy is often put into bed with children to soothe them before falling asleep.
A woman interviewed by KMGH-TV, a sister station of ABC 10 that spearheaded the investigative story, told a reporter that the toy is a favorite of her two children. She stated that when she changed the batteries in her daughter's toy for the first time, it started feeling hot and then she heard a sizzling noise. The toy then started to smoke.
"The first thought that went through my head was like 'Oh, my God, it could have caught fire. It could have caught a blanket in her bed on fire.' I freaked out right away," she told a KMGH reporter.
According to KMGH, the complaints concerning the toy go back to October 2012 and have continued as recently as February of this year. One reviewer on Amazon wrote, "Does a house have to burn down before they recall this thing?"
KMGH asked a University of Denver electrical engineering professor to look at the toy. The station reported that seconds after he put in new batteries, the battery coil began to heat up and smoke poured from the toy. The plastic in the battery case began to melt.
The professor said that fire isn't the only danger the toy allegedly presents. He stated that melting plastic can be poisonous and that overheated batteries may explode.
For its part, Fisher Price said it has no plans to recall the toy, claiming that a very small percentage of consumers have experienced an issue with the product. According to the CPSC, while a company is required to report any complaints about a product that represents a "substantial hazard," it is up to the company to decide what qualifies as such.
The product liability attorneys at the Jurewitz Law Group Injury & Accident Lawyers in San Diego will be following this story as it develops. It is a manufacturer, retailer or distributor's duty, by law, to assure that the products they sell are safe for consumers. If you believe you have been injured or if your property has been damaged due to a defective product, contact us for a free case review. You can arrange a no-obligation case evaluation with an attorney by contacting us online or call us toll-free at (888) 233-5020.