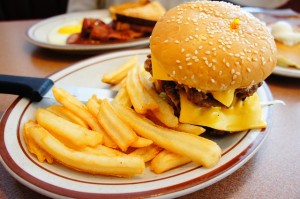 While San Diego is awash in burritos and fish tacos, every now and then the attorneys at the Jurewitz Law Group Injury & Accident Lawyers in San Diego just want a good old-fashioned burger. It turns out we're in luck because California has the largest number of burger joints in the nation. (We have 6,104 of the 49,000 restaurants classified as burger joints in the U.S.)
Of course, McDonald's is the largest chain (amazingly they buy more than 1 billion pounds of beef each year), and of course, there is In-N-Out Burger, which ranks remarkably high on the Zagat scale for burger joints in the San Diego area. If you are not aware of In-N-Out's (not so) secret menu, then you have only scratched the surface of this iconic California burger destination.
Large burger-chains aside, San Diego also has some go-to locations if you are looking for burgers both basic and sublime. Here are a few:
Hodad's
If you can stand the out-the-door lines during peak hours, visiting Hodad's is a must if you are looking to delve into San Diego burger lore. With its surf shack vibe, Hodad's has three locations in San Diego (if you count the Petco Park location). The location in Ocean Beach is the original. Want to learn more? Check out the Hodad's website.
Beaumont's
For those of you looking for a bit of burger adventure, there is always Beaumont's in La Jolla. Once there, you have to order "Le Beast." For a mere $18.50, you can have a half-pound patty of blended wild boar, elk, and bison covered in beer-battered onion rings, smoked green chili marmalade and melted Cambozola — all served on a pretzel bun.
Slater's 50/50
Slater's brags that "if you can dream it, we can make it." Frankly, some people have pretty odd dreams. Their website has a page fully devoted to their patron's creations (our favorite being "The King Richard," which consists of bacon, fried pickles and fried mac and cheese balls.) So, if you are feeling creative, this just may be the place for you.
The Grill at Torrey Pines
If you want a basic old-school burger, this is the place. The beef patty is extra-fatty and it is cooked to order. The mayo is made in house. Just don't go there in board shorts and flip-flops. The Grill is located within the Torrey Pines Golf Course, so there is a bit of decorum that must be adhered to.
Of course, this is just scratching the surface of great burger joints around San Diego. If you want to take the ultimate burger risk, though, you might just have to venture out of town and go to the Heart Attack Grill in Las Vegas. There you can order the Quadruple Bypass Burger, which tops out at 9,982 calories and contains four two-pound beef patties, 20 slices of bacon, eight slices of cheese, and caramelized onions cooked in lard.
Or you can pass on trying this monster. We're kind of siding with "pass."