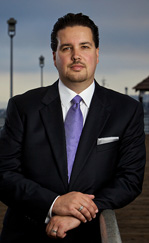 San Diego personal injury lawyer Ross Jurewitz has been selected to the 2016 San Diego Super Lawyers list, an honor reserved for lawyers who exhibit excellence in their practice areas. The Super Lawyers listing will be featured in the February 2016 edition of San Diego Super Lawyers Magazine, the March 2016 edition of Modern Luxury San Diego (which has a circulation of more than 154,000) and on the SuperLawyers.com attorney directory.
Super Lawyers selects attorneys for its listing by utilizing a patented multiphase selection process, which involves a combination of peer nominations and evaluations and professional achievement. According to Super Lawyers' website, the goal is to create a "Credible, comprehensive and diverse listing of outstanding attorneys that can be used as a resource for attorneys and consumers who search for legal counsel." The first step in the Super Lawyers selection process is to create the candidate pool. The second step evaluates candidates and the third is peer evaluation by the attorney's practice area.
Being included among this elite list of top attorneys in San Diego is an honor. "This is a testament to the hard work and commitment on the part of all our attorneys and staff members to provide the highest quality of legal representation and customer service to our clients," Mr. Jurewitz said.
Mr. Jurewitz is the principal and managing attorney of the Jurewitz Law Group Injury & Accident Lawyers. He is also the lead trial lawyer for the firm. In this capacity, he has tried or arbitrated numerous cases and obtained million dollar judgments for injured clients against negligent parties. Mr. Jurewitz is a frequent consultant and coach for other law firms as well.