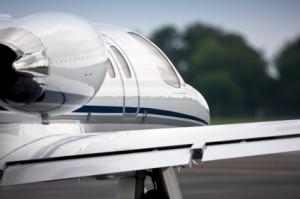 Following Sunday's deadly mid-air collision over Brown Field Municipal Airport that killed five people, authorities and investigators were informed that the control tower at the airstrip wasn't occupied at the time of the crash. This meant that the pilots involved in the accident had to watch out for each other's path, which is a dangerous way to fly.
But, new evidence indicates that the tower was actually open and had an air traffic controller working during the accident. Questions about how the crash could've happened are being raised.
A San Diego 6 news report says the National Transportation Safety Board (NTSB) is aware of more than it has revealed thus far about the crash, but is still investigating the scene. But, if the tower was staffed at the time of the collision and the weather was perfectly clear – how could have this possibly happened?
Reports from Brown Field Municipal Airport suggest that the two planes, a twin engine Saberliner business jet with four people on board and a single occupancy Cessna 172, clipped wings as they tried to land. All five people involved in the crash died at the scene.
Did the tower attempt to warn the two vessels? Were the pilots notified of how close they were to another?
This accident comes right after an Associated Press story last week reporting that air traffic controllers across the country are plagued by fatigue-induced errors.
If you have any questions or concerns about airplane safety, contact the Jurewitz Law Group Injury & Accident Lawyers today.