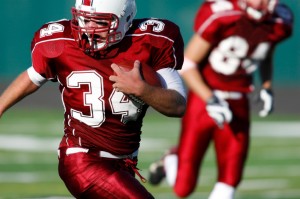 A new kind of safety latch designed to prevent football helmets from popping off could help reduce the risk of concussion and other serious brain and spinal injuries on the field, according to a recent article in The Los Angeles Times.
The Purpose of a New Safety Latch
The new safety latch, inspired by the devices used to keep light bulb sockets in place, combines a button with a narrow track. The button slides down the track to lock into place, and it is held in place by the helmet's chinstrap as it sits securely on the player's face. To release the latch and remove the helmet, the button must slide out of the track – which requires players to open the helmet properly instead of merely hitting the latch, preventing the helmet from coming loose or falling off entirely during active play.
Safer Helmets Help Reduce the Risk of TBI
The latch was designed by a 68-year-old Montana resident, who is also a medical professional and a football fan. Concerned by the growing number of severe brain injuries among players of all ages, the designer sought to find a better way to keep helmets in place and thus reduce the risk of head injuries. The resulting latch can be easily incorporated into existing football helmets of all sizes, according to the designer.
Get Legal Assistance Today
At Jurewitz Law Group Injury & Accident Lawyers, our experienced San Diego catastrophic injury attorneys have helped many families get the compensation they need after a traumatic brain injury (TBI) has caused serious harm. To learn more, contact us today at (888) 233-5020 for a free and confidential case evaluation about your sports-related head injury claim.