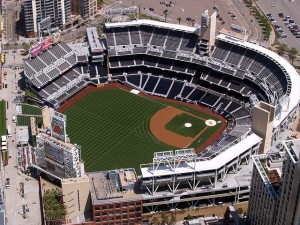 We lost one of the good guys on Monday, June 16th.
Of course, we're talking about Tony Gwynn, known as "Mr. Padre," who died after a battle with cancer at 54. He began his long and distinguished career with the San Diego Padres and ended his career with the San Diego Padres. The Baseball Hall of Fame inductee exemplified what an athlete should be on and off the field.
Mr. Gwynn's 20-year career with the Padres concluded on Sept. 30, 2001. He was one of only 16 players in the history of baseball to have played at least 20 seasons and spent their entire career with one team. Over those 20 seasons he had a batting average of .338 and earned an astounding eight league batting titles; tying him with Honus Wagner in the National League and only being bested by Ty Cobb who won 12 titles in the American League.
His name and his legacy became synonymous with San Diego. In 2004, the Padres retired his No. 19 jersey and in the spring of 2005 the street on which Petco Park is located was named Tony Gwynn Drive in his honor. In 2007 a statue of Tony was erected at the stadium.
He was also a star athlete at San Diego State University, earning All-American honors in baseball and All-Western Athletic Conference honors in basketball. To date, he is the only athlete in Western Athletic Conference history to be honored as an all-conference performer in two sports. Both the Padres and the (then) San Diego Clippers drafted him on the same day.
He eventually became the head baseball coach at SDSU and helmed the team for 12 years.
But what San Diegans will remember most about Tony Gwynn was his positive attitude, his joy of life, his simple humanity, and his kindness. In an era of big salaries and bigger egos, Tony Gwynn always kept it real.
A single mom from Poway related one of our favorite stories about Tony Gwynn. She had gone to the store to buy school clothes and shoes for her children. When she went to the register to pay, she found she was short on cash and had told her children to put the goods back. A man behind her said, "Not today," and when she turned around there was Tony. He said that the shoes were on him and punctuated the offer with his trademark smile.
They don't make them like that anymore and he will be missed.
The San Diego Padres announced that a free, public memorial will be held for Tony Gwynn on June 26 at 7:19 p.m. at Petco Park. The team said, "The event will celebrate Tony's legendary life, accomplishments, and contributions to the Padres, to San Diego, and to the sport of baseball."
The Jurewitz Law Group Injury & Accident Lawyers in San Diego encourages Tony Gwynn fans to attend the memorial to honor a man whose heart was as big as the city he loved.
Rest in Peace, Tony.