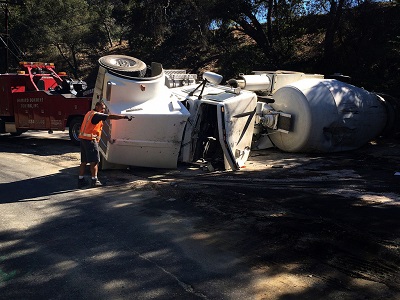 Anyone who drives Highway 8 regularly is familiar with having large trucks in the next lane during their commute. We see these big rigs hauling goods so often we almost forget how dangerous they are. According to the Federal Motor Carrier Safety Administration (FMCSA), there are well over 250,000 accidents involving large trucks each year on America's roads. These accidents injure over 60,000 people and leave over 3,000 dead.
Jurewitz Law Group Injury & Accident Lawyers has helped many La Mesa residents struggling financially after an accident with a large truck. Here are the four most common causes of La Mesa truck accidents our clients have reported over the years:
Truck Driver Error – The actions of inexperienced, negligent, and reckless truckers put other drivers and pedestrians sharing the road with big rigs in serious danger. Some common examples of errors truck drivers make include speeding, violating federal hours of service regulations, driving while fatigued, driving under the influence of alcohol or drugs, and distracted driving.
Truck Equipment Failure – After truck driver error, truck equipment failure is the second most common cause of truck accidents. The most common equipment failures that lead to accidents include brake issues, defective tires, and other equipment-related hazards.
Improper Truck Loading – The FMCSA sets maximum limits for how tall a truck can be and how much weight it can haul. Truck loads that are too heavy, trucks that are too tall, or loads improperly balance in the rig can all lead to serious La Mesa truck accidents.
Bad Weather – While the La Mesa area isn't known for bad weather, it does occasionally rain here, and when it does the roads get slick and dangerous for large trucks. Truckers who fail to adjust their breaking for bad weather puts other cars and pedestrians at risk.
If you or a loved one has been injured by the carelessness of a truck driver or a trucking company, you may be able to seek compensation for your damages and losses. Contact an experienced and dedicated La Mesa truck accident attorney who can help you secure a financial settlement to cover your medical bills, lost wages, suffering, loss of earning potential, and other related damages. Jurewitz Law Group Injury & Accident Lawyers can help. You can reach us at (888) 233-5020.