On June 26, Jurewitz Law Group Injury & Accident Lawyers team members Jillian Ferrario and Elissa Croce attended the Consumer Attorneys of San Diego (CASD) and San Diego County Bar Association (SDCBA) Blood Drive to donate blood to the San Diego Blood Bank. They are proud to have done their part in helping save lives in a country where someone is in need of a blood transfusion every two seconds.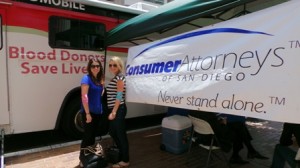 Personal injury attorney Jillian Ferrario, a recent and welcome addition to our firm, has been helping people throughout her life. While studying for her Juris Doctorate degree at California Western School of Law, she worked with high-risk youth, teaching them about their legal and constitutional rights. She also worked as a mediator in the North San Diego County small claims court as well as the juvenile detention center. Today, she works hard every day to provide injury victims with the means to put their lives back together.
Our personal injury paralegal Elissa Croce is also a compassionate individual who always goes out of her way to give clients the comfort, support, and attention they need to feel safe and secure. Although her tasks are innumerable, she handles each and every one with great finesse and care, which is why she is considered an invaluable member of our legal team.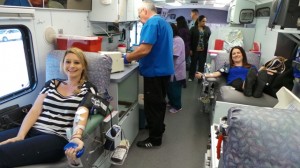 Upstanding individuals like Jillian and Elissa are the reason why the Jurewitz Law Group Injury & Accident Lawyers is regarded as a top personal injury firm in San Diego. They, and the rest of our staff, uphold the central principle of our practice: the client's well-being should be prioritized above all else.
If you have been injured and need financial support, please don't hesitate to give our office a call at (888) 233-5020. We provide comprehensive, no obligation consultations, free of charge. Whatever your needs are, our excellent legal team members will do everything to meet them.