At 10am Wednesday, May 2, 2012, Junior Seau's girlfriend placed the 911 call that shook us all.
Paramedics rushed to the scene to find Seau's unconscious body, brought about by a self-inflicted gunshot wound to the chest. Life-saving attempts were made, but the damage had been done. The 12-time Pro Bowl player was pronounced dead at his Oceanside home.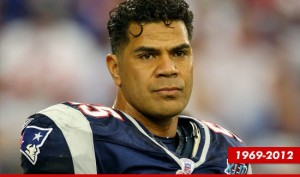 Photo from TMZ.com
Junior Seau's death raises several questions about what was thought to be a picture-perfect life. What happened in his post-career life that caused him to spin out of control? The answer may be part of a bigger problem, one that has often been overlooked by the NFL.
It is believed that Seau's suicide was a result of multiple, repeated blows to the head during his football career. However, it will take weeks for the medical examiner to really know if the former San Diego Charger suffered from a degenerative brain disease that causes memory loss, dementia, and depression, otherwise known as chronic traumatic encephalopathy (CTE).
Months before, Chicago Bears safety Dave Duerson fell to the same fate when he shot himself in the chest. It was an act that preserved his brain for study. A report on the autopsy revealed that the former defensive back had extreme brain damage common to chronic head trauma (CTE), which had also been found in more than 20 other deceased players.
Junior Seau may have been trying to send the same message when he shot himself in the chest. He had all the money, fame, and glory that his career brought him; but was it worth it?
The former Chargers linebacker's suicide came as a shock to the entire NFL community but specifically to his beloved San Diego family, friends, and loyal fans.
The Jurewitz Law Group Injury & Accident Lawyers sends our deepest condolences to all who were affected by this loss. Born and raised in San Diego, Seau started his football career at Oceanside High School and went on to play for the University of Southern California (USC) before being drafted into the NFL as a San Diego Charger. To us, his memory will live forever as San Diego's best-known and favorite Charger.