If you sustained injuries in a car accident that was the fault of another person, compensation could be available for your medical expenses and other losses, including lost wages. An experienced personal injury attorney can help you gather the information necessary to file a claim seeking compensation for lost income, including wages. 
Contact a San Diego personal injury lawyer at Jurewitz Law Group Injury & Accident Lawyers at (619) 233-5020 for a free, no-risk consultation. We will work hard to protect your interests at every stage of the legal process. Our attorneys can help you seek a fair and just settlement, even if it means advocating for your rights in court. We can help you pursue the compensation you need while you heal from your injuries. 
What Are Lost Wages
Courts consider lost wages as part of your monetary compensation. Medical expenses are another example of economic losses for which injury victims often seek compensation. These losses are easy to quantify and verify because some record of their existence is associated with them, such as hospital bills, invoices, and receipts. 
Lost wages consist of money or income you would have earned between the date of the accident that made you miss work and the date you settle your case or the date a court rules on your claim. If your injuries diminish your capacity to work and earn income in the future, you can also pursue compensation for lost future earnings. 
Lost wages include any losses from a temporary or permanent loss of employment income. They also account for the difference in wages for working reduced hours or working at a lower-paying job because your injuries prevent you from performing your old job duties. Neither your type of work nor your place of employment affects your right to file a claim for lost wages. 
How To Prove Lost Wages
Typically, a lawyer will calculate your lost wages by considering the nature of your employment and whether it is full-time, part-time, salaried, or hourly. Calculating lost wages also accounts for whether you are an independent contractor or an employee working multiple jobs.
Claiming lost wages involves more than presenting your paystubs. This process can require accident victims to submit substantial paperwork and meet several requirements. An experienced personal injury attorney can help you collect and present sufficient evidence to establish and support your claim for lost wages. Any false or incomplete documents can result in a denial of your claim for lost wages. Working with a seasoned personal injury attorney will allow you to present a complete and thorough case for your lost employment income.
Proving lost income for a self-employed individual presents unique challenges. If you are self-employed, you must submit proof establishing your average annual income. 
If you are self-employed or an independent contractor, an experienced personal injury attorney may be indispensable in establishing a complete accounting of your lost employment income.
How to File a Claim for Lost Wages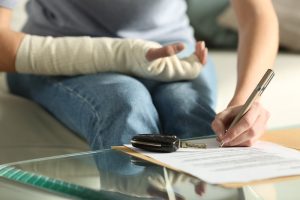 If you are in a car accident caused by another driver, you will likely file a claim with the other driver's liability insurance policy to seek compensation for medical bills and lost wages. Your attorney can help you submit proof of your lost income to the insurance company. If your losses exceed the limits of the other driver's policy or the insurance company denies your claim, you might be able to sue the other driver to pursue the money you need. In any case, an experienced car accident attorney can identify all possible insurance coverages and file any claims for lost wages on your behalf. A lawyer can also negotiate with the insurers to obtain a full and fair settlement. 
Most car crash cases settle out of court, but should the insurer offer a lowball settlement or refuse to negotiate in good faith, your attorney could file a lawsuit in civil court to seek the compensation you need for lost wages. Remember that there is a deadline for filing a lawsuit in civil court. An experienced personal injury attorney can help you determine when to submit the necessary paperwork and keep your case on track. 
Contact Jurewitz Law Group Injury & Accident Lawyers
If you lost employment income because of injuries sustained in a car accident caused by another person, the San Diego personal injury attorneys of Jurewitz Law Group Injury & Accident Lawyers have extensive experience representing clients in personal injury lawsuits. We can help you establish your right to compensation for all your losses, including lost wages. Contact us online today for a free initial consultation.