Distractions come in all shapes and sizes. Truckers and passenger vehicle drivers may be distracted by eating, personal grooming, smoking, or talking on the phone. There are three types of distracted driving. They include manual distractions that involve your hands, cognitive distractions that involve thinking, and visual distractions that occur when a driver takes their eyes off the road. Texting and driving may be the most dangerous distracted activity since it involves all three types.
What Is Distracted Driving?
The reality is that anything that takes the driver's eyes away from the road is a form of distracted driving. Electronic devices and unrelated activities can distract a driver and cause an accident. According to the National Highway Traffic Safety Administration, distracted driving claims 3142 lives in 2019.
Texting is the most alarming activity since it can take your eyes off the road for at least five seconds. Traveling at 55 miles an hour, this is the equivalent of going the length of a football field with your eyes closed. The consequences of distracted driving are significant.
Truckers and Passenger Vehicle Drivers Must Obey the Law
According to California law, using your cell phone while driving is illegal. In fact, any electronic communication device in your hand is against the law. You can only use a hands-free speakerphone or voice commands, but only when the phone is out of your hand.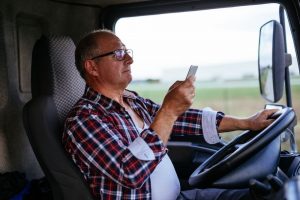 According to the California Office of Traffic Safety, talking, texting, and dialing a phone increases your risk of an accident. The risk is three times greater than if you are not using your phone. For this reason, it's also against the law for any driver younger than 18 to use a cell phone or smartphone for any reason.
Truck drivers have a federal rule they must obey. According to the Federal Motor Carrier Safety Administration (FMCSA), truck and bus drivers are restricted from the use of any handheld mobile phone while they're operating their vehicles. Data from research commissioned by the FMCSA reveals that drivers of commercial vehicles who were texting and driving had a 23.2 times greater risk for an accident than those who were not.
The definition of texting includes any means of manually entering or reading texts on an electronic device. This could include instant messaging, email, using more than a single button to call or terminate a call, or engaging in any kind of retrieval or entry of information on a phone.
If a commercial driver is cited for texting and driving, they can be disqualified. They can also face penalties of up to $2,750 for drivers and $11,000 for employers.
Who Is Liable for An Accident With a Distracted Truck Driver?
If a truck driver causes an accident because of texting and driving, they will be found liable. However, the trucking company may also be responsible for damages. To recover compensation, the injured party must prove liability and show evidence that the truck driver's distraction contributed to or caused the accident. You and your personal injury attorney may gather evidence to help prove your claim. This can include:
Police report: If the police accident report states the trucker was engaged in texting and driving, it can help during negotiations with the insurance adjuster.
Citation: The truck driver may have been issued a citation for distracted driving. This is a powerful tool and proof that the driver was at fault.
Cell phone records: If law enforcement was not aware that the truck driver was texting and driving, your personal injury attorney may check the driver's phone records. These can show the time that phone calls or text messages were received or sent.
Witness statements: If neutral parties have observed that the truck driver was distracted by texting and driving, this can be compelling proof to the insurance company or the court.
Admission: Interestingly, some truck drivers will admit to being distracted when questioned by the police.
Surveillance video footage: If the accident happens in the city, surveillance video from nearby businesses or ATM machines may show the driver using his cell phone.
Accident reconstruction: If the cause of the crash is disputed, your personal injury attorney may hire an accident reconstruction expert. This person can help reconstruct the sequence of events that led to the crash.
It is important to gather evidence quickly after an accident. Businesses may not keep surveillance footage for more than several days or a week and witnesses may also dump their photos of the accident scene.
Contact Jurewitz Law Group Injury & Accident Lawyers Today for Help After an Accident
If you were involved in an accident with a truck driver who was texting and driving, you may be entitled to compensation for your injuries. Our legal team understands the emotional, mental, physical, and financial stress you may experience after a significant accident and injury.
It is our mission to protect your rights and help you receive fair compensation for your injuries. You are not in this alone. Call a San Diego truck accident attorney from Jurewitz Law Group Injury & Accident Lawyers today at (619) 233-5020 to schedule your free consultation.