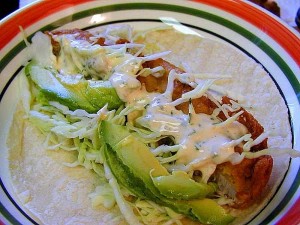 There are certain foods that define cities. If you go to New Orleans then you will probably want to order gumbo or jambalaya. Chicago? Well, you'll most certainly want to find some deep-dish pizza.
And if you are in our beautiful city of San Diego you will certainly want to grab a fish taco.
The Jurewitz Law Group Injury & Accident Lawyers went to renowned restaurant rating service Zagat to find what it considers to be the essential fish taco venues in the city so you know where to go if you get fish taco fever in San Diego. Here are the restaurants our office recommends:
Mariscos German
Mariscos German is not actually a restaurant, but food trucks (plural). However, their fish tacos are served in trucks that do not move from their locations, so we guess they could be considered restatrucks or truckaraunts, or something like that. Anyway, Mariscos German has topped many of the lists we have checked out, so you should probably check them out too.
Rubios
Look, we know this is a chain with restaurants in California, Arizona, Utah, and Denver, but Zagat says that their fish tacos are still considered "the blockbuster" of the fish taco world. Still, San Diego houses the first Rubios ever built. So if you want to chow down at the place where it all started and breathe in a little history, you can still go to the original location on Mission Bay Drive by Pacific Beach.
Oscars Mexican Seafood
This restaurant is the baby of the bunch at only three years old, but it is already making its mark for fish taco fame in San Diego. There are three locations, but Zagat warns that if you go to their North Pacific Beach stand you could wait up to 45 minutes for your tacos. Oh, and leave the credit card in your wallet; they only accept cash.
El Zarape
According to Zagat, this fish taco haven in University Heights is small — and so is the price of their fish tacos at less than a dollar each. You can call ahead to place an order for your tacos to avoid the lines.
Pacific Beach Shop
This restaurant won the vaunted Fish Taco TKO competition in San Diego in 2011. Yes, San Diego has a competition where fish taco makers square off to fight for the fish taco Mastery and Awesomeness crown. Pacific Beach Shop is also known for its Hawaiian hot sauce. But you'll have to ask for it at the counter now. Reportedly, the hot sauce proved so popular that people were stealing bottles of it from the tables.
If you want to check out these restaurants, we suggest you Google the locations or just ask a local where they are located. Oh, and if you could pick us up one or two, that would be mightily appreciated.