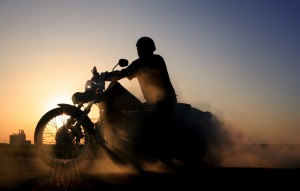 May is Motorcycle Safety Awareness Month. For drivers throughout San Diego and the entire U.S., motorcycle safety isn't the responsibility of the motorcyclist alone. Other motorists, pedestrians, and bicyclists must also take care to share the road safely with bikers, reducing the risk of accidents and injuries.
Whether you're taking a special trip or merely completing your daily commute, you can help keep San Diego's streets safe for motorcyclists and protect those in your own vehicle at the same time. When you're on the road:
Double-check for motorcycles in your mirrors and in your vehicle's blind spots. Bikes are smaller than cars, so they are more easily concealed from a quick glance.
Look twice in every direction before proceeding through an intersection. Some motorcyclists will slip between or beside vehicles to get through an intersection, and you may not see them on a first check.
Leave a larger following distance between your vehicle and a motorcycle ahead of you than you would normally leave for another vehicle. Motorcycles need the additional space to maneuver and stop in emergency situations without falling, especially if the pavement is wet or slippery.
Never share a lane with a motorcycle, even if there appears to be room. Always give motorcyclists a full lane width in which to maneuver for safety.
If you've been injured in a motorcycle accident, the skilled San Diego motorcycle accident attorneys at Jurewitz Law Group Injury & Accident Lawyers can help. Contact us today to learn more.  Your initial consultation is free and confidential.