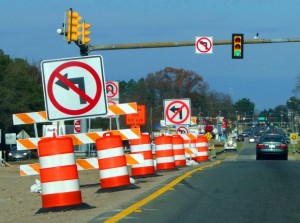 As a general rule, construction sites are dangerous places to work. Hard hats exist for a reason, and so do the many warning signs and safety procedures at construction sites. But, if construction sites are dangerous, highway construction zones are an extreme hazard. Not only must contractors and laborers deal with the pitfalls of a construction site, they must do so while traffic zooms past them. This is why construction crews must be vigilant while working along Southern California roadways. Even the slightest mistake can cause incredible damage to both people and property.
Unfortunately, a recent accident along Route 15 illustrates just how dangerous such workplaces can be. A crane that was attempting to move concrete slabs along the South Park freeway tipped over, trapping a laborer's leg. The victim had his leg pinned between two K-rails when the crane fell over. Crew members on the site were able to free the man's leg before emergency personnel arrival. He was then taken to Scripps Mercy Hospital with a severe leg injury.
News reports suggests the crane company involved in the accident is to blame. The company has had previous citations from OSHA, establishing a history of negligence. Remember – if you are injured while on the job, and it is the fault of a third party contractor, you may have grounds to pursue a separate claim outside of your worker's compensation.
Contact the personal injury team at Jurewitz Law Group Injury & Accident Lawyers today for more information. You can reach us at (888) 233-5020.