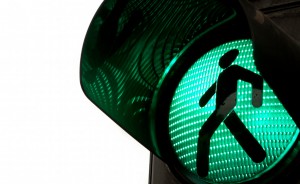 The city of Carlsbad is installing several safety features on Carlsbad Boulevard including four rectangular rapid flashing beacon lights along the road, which will be completed by the end of this month. According to a report in The Coast News, the signs on the boulevard will light up when a pedestrian pushes a button, bringing more attention to the crosswalk and alerting motorists to stop.
The beacons are being installed in crosswalks on Carlsbad Boulevard at Hemlock, Cherry, Maple and Sycamore avenues. Next month, the city plans to install two more on Grand Avenue. As a two-step safety measure, the city installed medians at these locations to give pedestrians a place to wait or stop when crossing the roadway to go along with the beacons to alert drivers.
Crosswalks are dangerous locations for pedestrians, especially in busy shopping and commercial areas. Motorists are required under California Vehicle Code Section 21950 (a) to stop and yield the right-of-way to pedestrians who are walking in marked or unmarked crosswalks. But, this doesn't always happen. Pedestrians who are struck in crosswalks suffer major or even catastrophic injuries – sometimes even death.
Injured pedestrians can seek compensation from at-fault drivers for damages and losses sustained, including:
Medical expenses
Lost wages
Rehabilitation expenses
Pain and suffering
They may also be able to seek compensation from the governmental entity in charge of maintaining the roadway, if a dangerous roadway or intersection caused or contributed to the incident. If you've been injured in a pedestrian accident, please contact an experienced Carlsbad pedestrian injury lawyer to obtain more information about pursuing your legal rights.