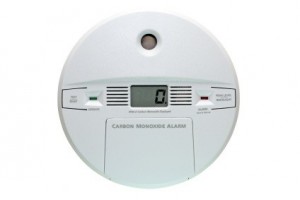 In the past few years, people have become fairly aware of the risks of carbon monoxide (CO) poisoning and this has lead to the arrival of many new laws in hopes of preventing severe injury by this "silent killer." Every year, more than 400 people die and around 40,000 are hospitalized due to carbon monoxide poisoning in the United States.
California passed a law that now requires all multifamily dwelling units to install carbon monoxide alarms, which came into effect January 1, 2013. Since the risk of carbon monoxide poisoning is the highest during winter months, now is the best time to enforce safety precautions in California. All households and landlords that fail to install proper alarm equipment will be subject to a $200 fine for every missing alarm.
According to a report submitted by the state fire officials on December 27, 2012, nine out of 10 households are missing a carbon monoxide alarm.
CO is hard to detect without a proper alarm system, since it is an odorless, tasteless, and colorless gas. Having to install a CO alarm may seem like a hassle, but to avoid fines and to keep your family safe – obey the law.
Here are some important safety tips that you should kept in mind when installing a CO alarm:
Always install carbon monoxide alarms outside different sleeping areas within your home.
Test the carbon monoxide alarms monthly and follow maintenance procedures according to the manufacturer's instructions.
Do not consider CO alarms as smoke alarms too. Smoke alarms are different and should be installed on every level and near sleeping areas.
Make sure to differentiate the sound between the CO alarm and the smoke alarm.
If these preventive measures are properly followed, the danger can hopefully be identified before causing serious harm to anyone.
We applaud our state's enforcement of CO alarms to help decrease CO poisoning in California and hope that other states will follow. Unfortunately, not all landlords will follow our new state's law, which will put others at risk of sickness and/or death. Contact a carbon monoxide poisoning attorney for further legal questions.
Make sure your home has a CO alarm installed. To learn more about our new state law and to purchase a CO alarm, visit http://www.firstalert.com/.