California Gov. Edmund Brown signed the autonomous-vehicle bill, SB 1298, into law on September 25, 2012 at Google headquarters in Mountain View, CA. So far Florida, Nevada, and California are the only three U.S. states that have passed laws regarding autonomous vehicles.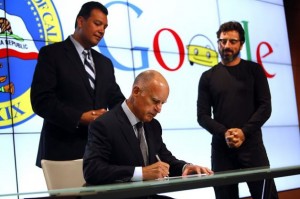 The bill will allow Google to test driverless cars on public roadways in California as long as a licensed human is behind the wheel in the event that the robotic functions fail and a physical driver is needed. The bill will also establish regulations on performance and safety in order to determine when the self-driving car is road-ready, which will be developed and implemented by the Department of Motor Vehicles by January 1, 2015.
Google co-founder Sergey Brin has hopes that in a decade, self-driving cars will be commercially available to the general public.
Benefits
According to Google, driverless cars will dramatically improve the quality of our lives. With intoxication, distractions, and speeding accidents occurring because of human error, a self-driving car has the potential to reduce these major types of traffic fatalities from occurring. When a human can get tired and suffer from drowsiness, the self-driving car will not get tired and function consistently.
Another advantage of self-driving cars is that it gives people that couldn't normally drive an option to still get transported independently. If someone was intoxicated, disabled, or even blind, they have the ability through driverless cars to travel to another location under their condition.
The cars would also have the ability to reduce traffic congestion by using highways more efficiently. Instead of driver's trying to speed pass each other and switch lanes, self-driving cars would chain to other cars in proximity to travel at a safe and constant rate to maintain road order.
Safety & Legal Concerns
The cars have been already going through testing in Nevada and have driven over 300,000 miles. According to CNN, there have been no accidents of any Google autonomous vehicle. The only accident that ever occurred by a Google self-driving car was when the vehicle was controlled by a human.
According to Consumer Watchdog, a consumer rights group, the new bill poses certain privacy issues that deal with personal information of passengers collected by self-driving cars. Exactly what data is gathered and how it may be used in the future is not controlled by the passenger. To enforce that only certain information is gathered to operate the vehicle and not be used by third-parties unless there is opt-in consent, an amendment to the bill may be necessary to protect the privacy rights of passengers.
Now that autonomous cars have complete driving control, does liability shift to the car's automaker, technology maker, or physical driver? Determining the at-fault party may be trickier to pinpoint. The DMV will have to tackle many of these complex questions regarding liability, insurance, and licensing as they begin drafting regulations for autonomous vehicles.
New Personal Injury Law
Although there is still a lot of work to be done, we admire Google's innovation and leadership in pushing autonomous car technology in hopes of decreasing auto accidents. If you or someone you know was involved in an autonomous vehicle accident, make sure to call a San Diego personal injury attorney to discuss your rights in this changing area of law.