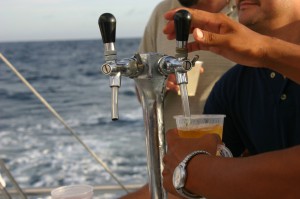 Boating offers great summer fun for southern California residents and visitors of all ages.  However, adding alcohol to a boating excursion can quickly turn a day of fun into an irreversible tragedy.  While an experienced San Diego boating accident attorney can protect your rights after an injury, the wisest course is to reduce your own injury risk by never mixing boating and alcohol.
According to the California Department of Boating and Waterways (DBW), a boater's ability to operate a boat or personal watercraft safely is impaired when the boater's blood alcohol concentration is just 0.35 percent – less than half the legal limit for driving a car.  For many boaters, just one or two drinks will raise the blood alcohol concentration to 0.35 percent, endangering not only the person operating the boat, but others aboard as well.
The ability to operate a boat or personal watercraft isn't the only thing alcohol impairs.  Boaters who have been drinking are also less able to notice and avoid hazards both on and off the boat.  If another boater or swimmer needs help, an impaired boater is less able to determine how to rescue them safely, much less carry out a rescue plan safely.
Alcohol consumption reduces a person's abilities in several areas that are essential to boating safely.  Depth perception, balance and coordination, reaction time, concentration, and the ability to discern color and shape, especially at night, are all impaired – and any of these skills may be required at any time when operating a boat or personal watercraft, especially if a sudden emergency arises.