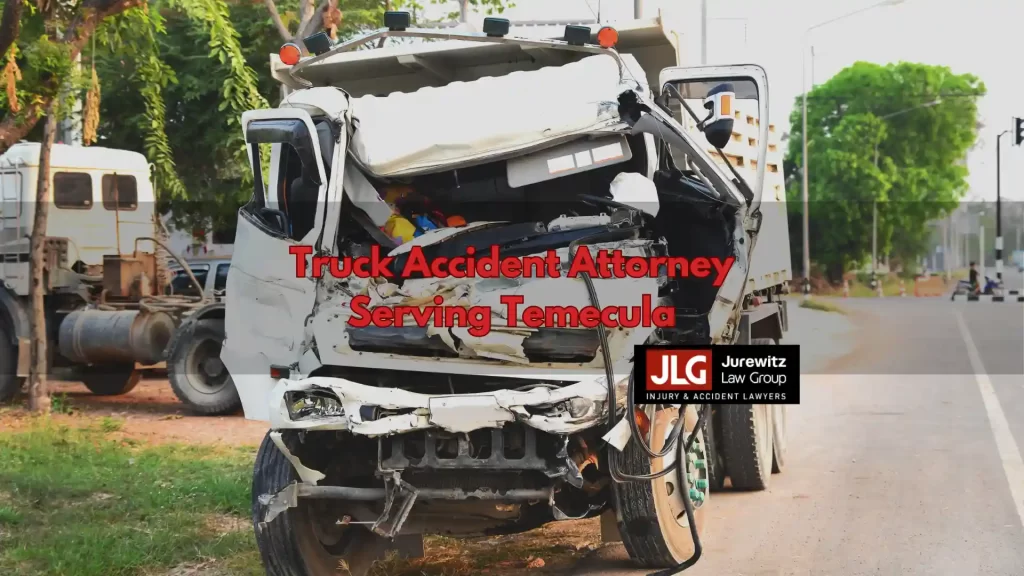 After a Crash with a Semi in Temecula, You Need an Attorney
Temecula, a small community in Riverside County with a population around 100,000, has big traffic. Situated the way it is in Southern California, plenty of trucks and construction vehicles pass through on a regular basis.
Being in any accident can be traumatic, but when one of the vehicles is a tractor-trailer, the collision is more likely to be deadly. Litigating a claim against a commercial vehicle is much more complicated, and victims can have a harder time recovering the compensation they are entitled to.
That's why you need a friendly and dedicated legal team representing you. The lawyers at Jurewitz Law Group Injury & Accident Lawyers understand what it's like to call Temecula home, because we live and work in the region. We want the streets and highways of Southern California to be as safe as possible for everyone, and when accidents happen, we're ready to help victims in their time of need.
Call us today at (888) 233-5020 to learn more.
Truck Accidents Are a Big Problem
Temecula has a well-earned reputation as a quiet retreat for residents of Los Angeles, San Diego, and other big cities in the area. We have championship golf courses, lovely vineyards and resorts, and plenty of boutiques and restaurants. The Temecula Valley Balloon & Wine Festival and the Temecula Valley International Film Festival attract visitors every year. But despite this image, heavy traffic is still a problem in the city.
The 15 goes directly through Temecula, and the 215 junction lets out just north of here. Not only do we see a ton of commuter traffic passing through every day, but a significant number of commercial trucks as well. The main streets have a lot of delivery trucks, construction vehicles, and buses, both private and public. All this traffic means a serious accident is just waiting to happen.
Because of their size, trucks and buses can cause a lot of damage to other vehicles on the road. Truckers are faced with long distances that they have to cover in a relatively short period of time. The Federal Motor Carrier Safety Administration sets strict limits on how many hours a driver is allowed behind a wheel, but these rules are often ignored, either by the company or the drivers themselves. This means that fatigue is one of the leading causes of truck accidents every year.
Let Us Advocate on Your Behalf
Accident victims have a long road to recovery. On top of their injuries, they have obligations, both professional and personal, that have to be put on hold while they are hospitalized or rehabilitating. The last thing you need to worry about after a truck crash in Temecula is whether your bills will be covered.
For collisions involving a commercial vehicle, there is an added layer of complexity when it comes to who is responsible for covering the damages. Insurance companies always try to limit the amounts they have to pay out, and trucking companies have expensive legal teams protecting them.
At Jurewitz Law Group Injury & Accident Lawyers, our founding principle is that victims have the right to recover every penny they are entitled to. Don't rely on insurance companies to do the right thing. In all likelihood, they won't. That's where we come in. Our aggressive legal team will fight on your behalf, so you can concentrate on what's truly important: making a full recovery. Call a Temecula car accident attorney today at (888) 233-5020 to schedule a free case evaluation.