You've Been Seriously Hurt in a Motorcycle Accident. Don't Get Hurt Again! Order and Read Our California Motorcycle Accident Book Before Settling with the Insurance Adjuster!
Most motorcycle accidents cause serious injury. Bikers hurt in California often make the mistake of thinking their motorcycle accident claim is just like any other traffic accident claim and that they can hire an auto accident attorney to help them. The truth is that motorcycle accident claims are different and require additional training and specialization by a lawyer versed in the physics and rules of the road by motorcyclists.
San Diego personal injury lawyer, Ross A. Jurewitz of the Jurewitz Law Group Injury & Accident Lawyers, has spent many years representing people seriously injured in motorcycle accidents throughout San Diego and California. Over the years, he has observed his injured biker clients and potential clients repeatedly make the same false assumptions and mistakes after they have been hurt due to a careless car driver. Now he has written a book that addresses all of the most common mistakes and errors to make sure that motorcyclists do not get hurt twice.
In the book, The Ultimate California Motorcycle Accident Book: How to Protect Yourself from Day 1, Mr. Jurewitz provides helpful information to every injured California motorcyclist,
including: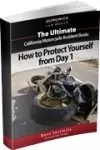 Why motorcycle cases are different than auto cases
Why auto accident lawyers do not have a background for bike cases
Myths about motorcycle accident claims
Myths about motorcycle accident lawyers
How to get your bike repaired
How to get your medical bills paid
When almost every injured biker needs a lawyer
What your injury claim is worth
The ten biggest mistakes that can destroy your California motorcycle claim<
This book normally sells for $16.95 through Amazon.com. However, as a courtesy, the Jurewitz Law Group Injury & Accident Lawyers is giving away this book for free to all California residents (except if you work for a law firm or insurance company).
If you would like to have a free copy of this book sent to you, please fill out the form below and we will send you a copy shortly.