Do Not Talk With an Insurance Company Adjustor or Try to Settle Your California Accident Case Without First Reading This Book!
Insurance company adjustors are highly trained in personal injury law and evaluation of claims. However, what they are particularly trained for is to pay injured people less than they deserve to settle their personal injury case.
Over his many years as a personal injury lawyer representing people injured in accidents, Ross A. Jurewitz has watched people make the same critical mistakes over and over again. Often these mistakes are made before the injured person consults with a trained lawyer and the injured victim is talking to and trusting the adverse insurance company adjustor. Only when the injured victim realizes that the insurance company will not treat them fairly, do they realize their mistakes and that they need to consult with an attorney.
In the book, The Ten Biggest Mistakes That Can Destroy Your California Accident Case, Mr. Jurewitz provides helpful information that every California injury accident victim should know, including: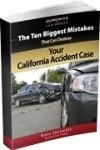 Myths about personal injury claims
Myths about personal injury lawyers
What you should do immediately after an accident…and what you should not do
How to get your car repaired
How to get your medical bills paid
When you should not hire a lawyer for your injury claim
How to determine what your injury claim is worth
The ten biggest mistakes that can destroy your California accident case
This book normally sells for $16.95 through Amazon.com. However, as a courtesy, the Jurewitz Law Group Injury & Accident Lawyers is giving away this book for free to all California residents (except if you work for a law firm or insurance company).
If you would like to have a free copy of this book sent to you, please fill out the form below and we will send you a copy shortly.