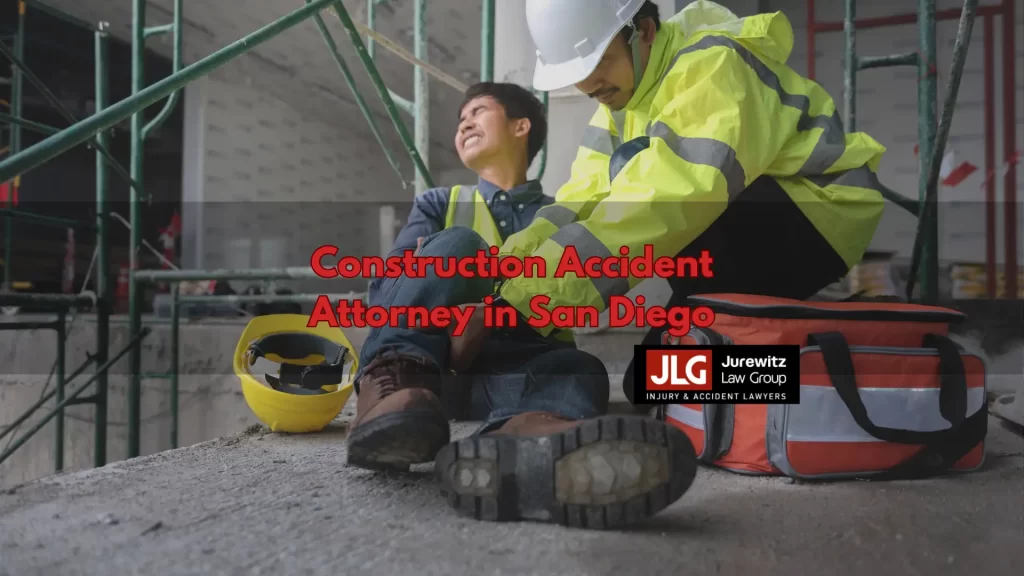 The Bureau of Labor Statistics (BLS) reported that there were 71 fatal injuries among construction and extraction occupations in California in 2017, 69 specifically in construction. Construction injuries included 15 transportation accidents, 32 falls, slips, or trips, nine exposures to harmful substances, and eight contacts with objects or equipment injuries.
Construction accidents are often complicated because injured workers are usually limited to workers' compensation claims filed against their employers. Not only is workers' compensation just a fraction of a worker's regular salary, but some employers will also aggressively seek to limit or even deny workers' compensation awards.
Did you suffer severe injuries or was your loved one killed in a construction accident in the San Diego area? You do not have to deal with all of the stress of submitting a workers' compensation claim on your own.
Jurewitz Law Group Injury & Accident Lawyers can perform an independent investigation into your accident to determine if additional parties may be liable and help you recover every last dime of compensation you are entitled to. Call (855) 971-0607 or contact us online to take advantage of a free consultation.
Do I Need A Construction Accident Lawyer?
Some people assume workers' compensation is their only option after a construction accident and decide they do not need to spend money on an attorney to submit their application for benefits. Many of the same people are often at a loss for words when their claims are denied, and the confusion can lead to delayed actions that possibly prevent the individuals from recovering anything.
You are going to want an attorney involved in your case because they will have years of experience with workers' compensation claims. A lawyer is going to know what evidence needs to be included in a workers' compensation claim and also how to respond if your claim is denied for any reason.
One of the most important reasons to have an attorney is for determining if other parties could be liable besides your employer. It is not uncommon for a third party to be negligent in a construction accident because of the number of parties involved in construction sites.
Why Choose Jurewitz Law Group Injury & Accident Lawyers To Handle My Case?
Jurewitz Law Group Injury & Accident Lawyers has a record of success that includes several multimillion-dollar verdicts and settlements. Our firm has two office locations in Downtown San Diego and Carlsbad, and we have been representing people injured in all kinds of accidents since 2000.
Ross Jurewitz is a member of the Consumer Attorneys of San Diego, Consumer Attorneys of California, American Bar Association, State Bar of California, San Diego Regional Chamber, and Carlsbad Chamber of Commerce. He has been named one of the Top 3 Personal Injury Lawyers in San Diego by Threebestrated.com, a Super Lawyer by the Southern California Super Lawyers in 2016, 2017, and 2018, and a member of the Best of the Bar 2015 by the San Diego Business Journal. He has also earned membership in the exclusive Million Dollar Advocates Forum. Fewer than 1 percent of attorneys in the country are members of this prestigious organization.
You should also know that Jurewitz Law Group Injury & Accident Lawyers handles every case on a contingency fee basis, so you only pay if we win your case. We will work towards a settlement that covers every single expense you have incurred or will incur, but we can file a lawsuit when it is necessary to get you the compensation you need and deserve.
Types of Construction Accident Cases We Handle
The Occupational Safety and Health Administration (OSHA) refers to the four most common causes of deaths in the construction industry as the "Fatal Four." The Fatal Four includes falls, struck by an object, electrocution, and caught-in/between.
According to OSHA, Fatal Four deaths accounted for 59.9 percent of construction worker deaths in 2017. Falls accounted for 381 out of 971 total deaths (39.2 percent) in construction in 2017, struck by object had 80 deaths (8.2 percent), electrocutions had 71 deaths (7.3 percent), and caught-in/between had 50 deaths (5.1 percent).
Some of the most common kinds of construction accidents that Jurewitz Law Group Injury & Accident Lawyers handles include, but are not limited to:
Burn injuries
Chemical spills
Collapsing floors
Crane accidents
Defective machinery or equipment
Demolition accidents
Electrocutions
Elevator accidents
Explosions
Exposure to harmful substances
Falling objects
Falls from unguarded heights
Fires
Forklift accidents
Heat stroke
Heavy machinery accidents
Ladder accidents
Lead poisoning
Motor vehicle accidents
Operator negligence
Repetitive motion injuries
Respiratory diseases
Saw accidents and nail gun injuries
Scaffolding failures
Slip and falls
Structure collapses
Trench collapse
Welding accidents
Violence by co-workers
Construction accidents can be especially complicated because of the number of factors involved. Jurewitz Law Group Injury & Accident Lawyers will use the latest technology and consult with experts when necessary to get answers and prove the negligence of another party.
Frequently Asked Questions About Construction Accidents
What damages can be recovered for a construction accident?
All injured workers in California are entitled to receive two-thirds of their pretax gross wages. The maximum temporary total disability (TTD) rate in 2019 was $1,251.38 per week, and the minimum was $187.71.
When an injured worker has a separate claim against another party, that case will usually be resolved through a settlement because insurance companies do not wish to take cases to court, for risk of a costly judgment against them. While settlements are designed to provide enough compensation to cover all costs a victim incurs, some cases do go to trial.
Could work crew members possibly be at fault for my accident?
Absolutely. While workers' compensation prohibits a person from filing a lawsuit against an employer, the same immunity if not afforded to other parties involved in accidents. Co-workers could certainly be negligent in some cases, as could other third parties involved in construction sites in some way.
Which kinds of OSHA violations are most common in construction accidents?
The top 10 most frequently cited OSHA standards violated in the fiscal year 2018 (October 1, 2017, through September 30, 2018) were:
Fall protection in construction
Hazard communication standard in general industry
Scaffolding general requirements in construction
Respiratory protection in general industry
Ladders in construction
Powered industrial trucks in general industry
Fall protection training requirements
Machinery and machine guarding general requirements
Eye and face protection
OSHA reported that 20.7 percent of the 4,674 worker fatalities in private industry in 2017, or one in five worker deaths, were in construction.
Construction Accident Statistics
The Division of Occupational Safety and Health (DOSH or Cal/OSHA) of the California Department of Industrial Relations (DIR), which gathers statistics on work-related deaths through the Census of Fatal Occupational Injuries (CFOI) Program, reported that the construction industry had the second highest number of fatalities for the five-year period between 2013 and 2017 with a total of 309 fatalities. This accounted for 16 percent of total workplace fatalities.
The 69 cases in 2017 included 32 fatalities caused by falls, trips, and slips as well as 15 involving transportation incidents. The average fatality rate of 5.8 per 100,000 workers in construction was only lower than agriculture (11.0) and transportation and utilities (7.0).
Construction and extractions accounted for 71 fatalities in 2017, 54 fatalities in 2016, 69 fatalities in 2015, 49 fatalities in 2014, and 64 fatalities in 2013. Cal/OSHA also reported that 43 percent of construction workers injured on the job were in their first year of work.
Contact a San Diego Construction Accident Attorney Today
The construction accident lawyers of Jurewitz Law Group Injury & Accident Lawyers are committed to protecting workers in our San Diego community. We only represent injury victims and have never worked for the other side. If you were hurt in an accident on a construction site, our lawyers will help you with your workers' compensation claim and will make sure that you get the benefits you're owed. If your injuries were caused by a negligent third-party, we'll be there to hold them accountable and get you the compensation you are owed.
Our compassionate team will take the time to get to know you, to learn more about your story, and make sure that we understand everything we need to about your case. It allows us to represent you to the fullest of our abilities, and make sure we can help you with your construction accident claim.
Call us at (855) 971-0607 to schedule a free consultation to speak with an experienced construction accident lawyer at our firm today.