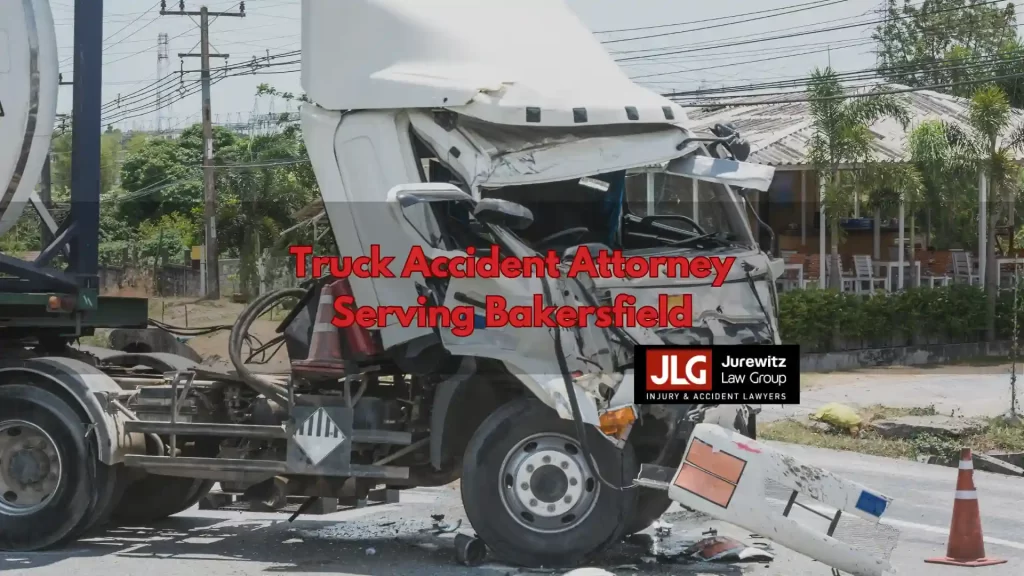 Did you sustain injuries in an accident involving a commercial truck? Did a negligent truck driver or another party cause the crash? If so, contact the Bakersfield personal injury attorneys of Jurewitz Law Group Injury & Accident Lawyers immediately. You might be entitled to compensation for your injuries.
Various contributing factors can cause a truck accident. Commercial trucks, such as tractor-trailers, are massive. They're long, heavy, and high off the ground. The trailer can contain hazardous cargo or toxic substances. Driving trucks requires experience and operational skills to maneuver around traffic. If the truck driver is careless, an accident can occur.
Collisions between commercial trucks and small cars often cause more severe injuries to the smaller vehicle occupants. The force of the impact is violent and can cause instant destruction and physical harm. Fatalities are also common in large truck accidents. The human body can't withstand the sudden and violent motion and forces it experiences during a crash with a semi.
Many people are in shock immediately after an accident. Injuries can be debilitating and require ongoing treatment to heal. Some accident victims suffer permanent injuries that cause impairments or disabilities. The cost of medical care is often expensive and might lead to significant debt. Unfortunately, many people can't afford their bills while they're struggling to recover from their injuries.
At Jurewitz Law Group Injury & Accident Lawyers, we know that no amount of money can change what happened. However, it could offer some financial relief. The at-fault party should be responsible for your medical bills and other costs from the accident. Our truck accident attorneys in Bakersfield, CA, might be able to represent you in your case against the negligent truck driver or trucking company. We are ready to help you fight for the maximum compensation available.
Call Jurewitz Law Group Injury & Accident Lawyers for your free consultation today at (619) 233-5020 or reach out to us online.
Common Types of Truck Accidents
Various types of commercial trucks serve different functions. Some trucks transport hazardous chemicals, such as oil and gasoline. Others can carry bulky items, such as furniture or vehicles. The one thing every commercial truck has in common is its ability to cause catastrophic injuries in an accident.
Jurewitz Law Group Injury & Accident Lawyers have over a decade of experience representing injured clients in a range of commercial truck accidents, such as:
Rear-end collisions – A rear-end accident typically happens if a truck driver follows a car too closely. The lack of distance between the two vehicles prevents the trucker from stopping the truck in time to avoid a collision if the driver ahead stops or slows down suddenly.
Override and underride accidents – An override accident occurs when the front of a truck runs over the back of a small car. An underride accident results from a vehicle crashing into the side or back of a truck's trailer and sliding underneath.
Jackknife accidents – A jackknife accident happens when the front cab of a truck and the trailer slide towards each other at an angle. This type of crash can happen if the truck driver swerves or maneuvers suddenly, causing a rapid change in the truck's direction and momentum.
T-bone accidents – A trucker might run a stop sign or red light and collide with the side of a vehicle already in the middle of an intersection. A commercial truck can crush a small car during a T-bone collision and trap the occupants inside.
Rollover accidents – Large vehicles have a high center of gravity. A commercial truck is susceptible to tipping or rolling over in an accident. A truck driver might take a turn too fast or jump a curb, causing the tires to lift off the ground and the entire vehicle to tip onto its side.
Head-on accidents – A head-on collision with a commercial truck can have fatal consequences. In 2020, 30 percent of deaths involving large trucks were from head-on accidents.
Whether your injury is minor or severe, you deserve the opportunity to hold the at-fault party liable. Jurewitz Law Group Injury & Accident Lawyers can investigate the crash and determine if the truck driver or another party should compensate you for your injury. Do not hesitate to contact us if you sustained an injury in any of the truck accident types above.
Most Common Causes of Truck Accidents
A range of scenarios can lead to a truck accident. Human error is a common reason for collisions between commercial trucks and passenger cars. The truck driver could behave carelessly or intentionally break a traffic law that endangers others.
The motor carrier could also be at fault for someone's injury if they knowingly hire an inexperienced or unlicensed driver. Anyone could be liable for a truck accident if their actions contributed somehow to the accident.
The most common causes of truck accidents include:
Failure to check blind spots – Commercial trucks have four blind spots. Truck drivers must adequately scan each one before maneuvering. If they ignore their blind spots, they could sideswipe a vehicle traveling alongside.
Fatigued driving – Federal law imposes a maximum limit on the number of hours a trucker can spend driving during their shift. Unfortunately, truck drivers might violate the regulation to stay on schedule and make more money. Fatigue significantly impairs driving abilities and increases the risk of an accident.
Speeding – Exceeding the speed limit in a commercial truck is dangerous. Trucks require a longer stopping distance, which increases with higher speeds. High-speed accidents involving large trucks and small cars can result in life-threatening injuries and fatalities.
Driving under the influence – Driving under the influence refers to a person who operates a motor vehicle while impaired by drugs or alcohol. These substances can significantly impede driving abilities. A trucker under the influence likely won't notice dangerous conditions or brake in time for stopped traffic.
Poor vehicle maintenance – Defective trucks and parts don't function correctly. The truck driver and motor carrier's responsibilities include inspecting and maintaining the vehicles regularly. They must also repair damage or replace defective parts promptly.
Tailgating – Following another driver too closely in any vehicle is dangerous. It's entirely reckless in a commercial truck. If a truck crashes into the back of a small car, the smaller vehicle occupants could sustain severe whiplash, get ejected if they're not wearing seat belts, or hit their head on the steering wheel or another part of the vehicle.
Improperly loaded cargo – Federal law requires adequate securement systems for all freight. There are also weight and size limits. Loading cargo beyond the limits or using defective tie-downs can cause items to shift during transport or fall off the back of the truck.
Inexperienced truck driver – Motor carriers must perform thorough background checks on prospective drivers. Hiring someone without the necessary experience or qualifications puts a dangerous trucker on the road. They won't know how to maneuver safely around others or react appropriately in an emergency.
Distracted driving – Driver distractions come in various forms. Anything that takes a driver's eye, attention, or hands off the task of driving is a distraction. If a truck driver sends a text, eats their lunch, or sings along to the radio while driving, they're not entirely focused and could cause an accident.
If another party engaged in any of these actions and a truck accident occurred as a result, contact Jurewitz Law Group Injury & Accident Lawyers to discuss your legal options. You could pursue action against the at-fault party for the compensation you deserve.
Common Injuries in Truck Accidents
Multiple types of injuries can happen in large truck accidents. The most common injuries include:
Whiplash
Broken bones
Internal bleeding
Paralysis
Burn injuries
Emotional or psychological trauma
Loss of limb
Spinal cord injuries
Permanent scarring or disfigurement
Organ failure
Traumatic brain injury
Some accident victims are fortunate and walk away from a crash with minor injuries. Others suffer long-term complications. You might need months or years of treatment for your injury. Even after your physical wounds heal, you could suffer residual symptoms, such as chronic pain or reduced mobility. Anxiety, post-traumatic stress disorder (PTSD), and depression are also common after truck accidents.
Compensation Available for Truck Accident Injuries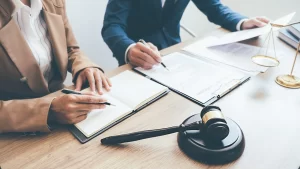 Motor carriers must buy liability insurance for each truck in their fleet. The amount of coverage depends on the weight of the vehicle and the type of cargo the driver transports. For example, a truck that weighs over 10,000 pounds and contains non-hazardous freight must have $750,000 in liability insurance.
You could file a claim with the motor carrier's insurance company and pursue a settlement to compensate for losses, such as:
Lost wages
Lost earning capacity
Pain and suffering
Medical bills
Loss of enjoyment of life
Emotional distress
Physical impairment or disfigurement
Property damage
No two cases are alike. The compensation you receive for your injury could be drastically different from the financial award another client gets. The money you're entitled to will depend on various factors, including the severity of your injury and the total expenses incurred from the crash. Jurewitz Law Group Injury & Accident Lawyers will do our best to secure the maximum possible settlement so you can cover your total losses.
Deadline to File a Lawsuit After a Truck Accident
California's statute of limitations allows a two-year period for personal injury lawsuits. That means you must file your lawsuit within two years of the accident to pursue compensation in court.
This might seem like plenty of time to prepare your case, but a range of unforeseen circumstances could delay the process. You should hire Jurewitz Law Group Injury & Accident Lawyers immediately after the crash so we can begin to work on your case and avoid complications of missed deadlines.
Contact Us
Since 2007, the Bakersfield truck accident attorneys of Jurewitz Law Group Injury & Accident Lawyers have fought for the rights of our clients. We have received multiple awards and accolades from organizations, such as the Million Dollar Advocates Forum and Super Lawyers. Our track record and reputation show the dedication and experience we bring to every case we take.
If you sustained an injury in a truck accident due to someone else's negligence, call us at (619) 233-5020 for your free consultation right now.