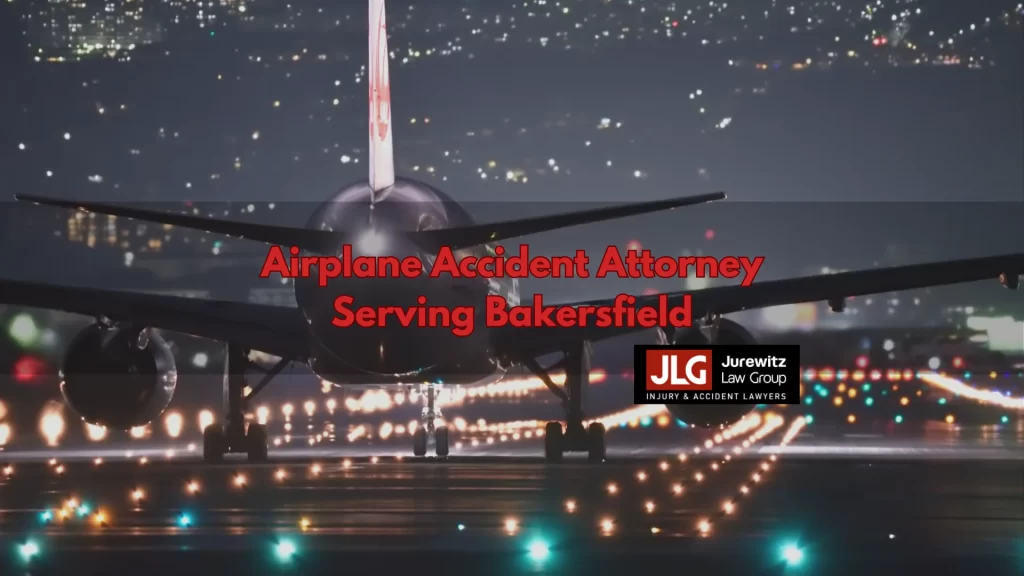 If you suffered injuries in an accident involving an airplane, do not hesitate to contact the Bakersfield personal injury attorneys of Jurewitz Law Group Injury & Accident Lawyers. You might be entitled to compensation for your medical bills and other costs. The at-fault party should be liable for the suffering you endured.
At Jurewitz Law Group Injury & Accident Lawyers, we understand how traumatic it can be when an airplane accident occurs. Plane crashes aren't as common as other types of incidents. Many injuries happen while a passenger walks down the aisle of the plane or sits in their seat during turbulence. Various circumstances can cause a person's injury, and the injury might require medical treatment to heal. If another person or the airline is at fault, you have a right to pursue legal action against them.
Although the chance of a plane falling out of the sky is low, catastrophic accidents are possible. In 2020, 332 people died in aviation accidents. However, most of those fatalities involved general aviation instead of commercial aviation. General aviation includes recreational and private planes, while commercial aviation is for-hire aircraft operations that transport passengers.
Equipment can malfunction, or the pilot can make an error that causes a collision with another airplane or a crash landing in the water. When an airplane goes down, the results can be fatal. Passengers don't have much to protect them from the force of the impact except their seatbelts.
The Bakersfield airplane accident attorneys of Jurewitz Law Group Injury & Accident Lawyers will fight by your side for the justice you deserve. We can investigate the accident and collect the available evidence to prove what happened. We will tirelessly work to meet your needs and try to resolve your case favorably. You can depend on us to be there for you every step of the way.
Call (619) 233-5020 today for your free consultation or reach out to us online to learn more about the services we provide.
Differences Between Commercial Aviation and General Aviation
Commercial aviation pilots must meet higher standards of health and safety than those required for pilots in general aviation. They must obtain specific licenses for the types of planes they fly. Commercial flights are available to the public for international and domestic travel. The planes used for commercial aviation typically take off and land at large airports.
General aviation serves a range of different functions. It refers to various types of aviation, excluding commercial and military airlines. Commercial airlines don't operate the nonscheduled flights that general aviation pilots do. Private planes aren't the only type of aircraft used in general aviation. Others can include:
Business and personal jets
Small airplanes
Charter flights
Emergency service planes and helicopters
Tour helicopters and planes
Offshore helicopters
Non-commercial aircraft
The pilots in general aviation and commercial aviation must have the required licensing and certifications to operate specific aircraft. Although many go through extensive training, accidents can happen either because of their negligence or due to the actions of their co-pilot, crew, or another party.
Common Types of Airplane Accidents
Numerous factors can contribute to an accident involving an airplane. Injuries can happen in any situation, whether the plane is taxiing, landing, or in the air. The most common types of airplane accidents include:
Runway collisions – A plane could crash into various objects on the tarmac, such as luggage transport vehicles, fences, and barriers. They could even collide with another aircraft.
Slip/trip and falls – A passenger could fall while aboard the airplane and suffer an injury. Hazards in the aisles might cause someone to slip or trip.
Landing accidents – When a pilot comes in for a landing, they must follow the correct procedure to safely land the plane on the ground and come to a complete stop. An error could cause the pilot to miss the runway.
Takeoff accidents – Taking off requires as much skill as landing. Pilots must calculate the appropriate distance and speed to get the tires off the ground and ascend into the sky. Emergency maneuvers to avoid a crash or bring the nose of the plane up quickly can cause severe injuries to passengers from the rapid movement.
Unsecured overhead bins – Flight attendants are supposed to close the overhead bins securely before takeoff. A distracted flight attendant might not close the bin entirely, or a faulty latch could cause it to open, spilling luggage onto the passengers underneath.
If your injury resulted from any of these or some other aviation accident, contact Jurewitz Law Group Injury & Accident Lawyers immediately. We can review the facts of your case and determine whether you're entitled to compensation from the airline or the negligent individual responsible for the accident.
Common Causes of Airplane Accidents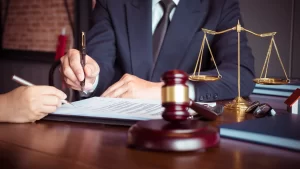 Airplane accidents can occur for many reasons. Whether flying with a commercial airline or chartering a private jet, issues can arise that lead to injuries and fatalities.
The most common causes of airplane accidents include:
Low fuel
Air traffic control errors
Miscommunication between the pilot and flight crew
Malfunctioning equipment or defective parts
Adverse weather conditions
Pilot error
Inadequate preflight inspections
Lack of maintenance and repairs of the aircraft
Federal Aviation Administration (FAA) regulation violations
Issues with the landing gear
Obstructed runways
Regardless of why and how the accident happened, you should take immediate action to seek compensation. Your injury is likely severe and might require ongoing treatment to heal. Medical bills can be expensive and cause significant financial strain. The compensation you receive from an insurance claim or lawsuit could cover those costs, so you don't have to pay out of pocket.
Common Injuries in Airplane Accidents
A range of injuries, from minor to life-threatening, can result from aircraft-related incidents. Some people need emergency medical care to reset a bone fracture, address internal injuries, and diagnose a head injury. Others spend months or years trying to recover and face complications leading to long-term issues.
The most common types of injuries airplane accidents can cause include:
Paralysis
Facial scarring or disfigurement
Burn injuries
Lacerations
Traumatic brain injury
Loss of limb
Internal bleeding
Soft tissue injuries
Spinal cord injury
Broken bones
Psychological trauma
Unfortunately, many plane crashes cause passenger deaths. Surviving a collision is possible, but many people sustain fatal injuries or die upon impact with the ground. Survivors are often left with severe emotional pain and suffer post-traumatic stress disorder (PTSD), anxiety, and other mental illnesses.
Compensation for Injuries in an Airplane Accident
The pilot isn't the only person responsible for accidents involving planes. Other people could be liable depending on the circumstances of the injury. The parties most commonly at fault for airplane accidents include:
Pilot
Air traffic controller
Commercial airline
Mechanic
Plane or parts manufacturer
Flight crew member
Servicing company
Maintenance worker
Private plane company
You could file an insurance claim or lawsuit to hold the negligent person or company liable for your injury. The compensation you receive might compensate you for various accident-related losses, such as:
Loss of enjoyment of life
Pain and suffering
Lost wages
Lost earning capacity
Physical impairment or disfigurement
Medical expenses
Emotional distress
Damage to personal property
You might also recover exemplary damages in a lawsuit. To receive this form of compensation, you must show clear and convincing evidence that the defendant acted with the intent to oppress you, commit fraud, or that they acted maliciously.
You could pursue a wrongful death case if you lost your loved one in a plane crash or another incident involving an aircraft. The only parties eligible to file a lawsuit for compensation for their family member's death include:
Spouse or domestic partner
Children
Grandchildren
However, if there are no surviving relatives in the deceased's line of descent, anyone entitled to the decedent's property by intestate succession can initiate a wrongful death lawsuit.
Additionally, state law allows anyone financially dependent on the deceased at the time of the death to pursue compensation. This includes:
Putative spouse
Children of the putative spouse
Stepchildren
Parents
Legal guardians if there are no surviving parents
The compensation you receive in a wrongful death lawsuit could cover losses you and your family suffered, such as:
Loss of the deceased's love, care, society, comfort, assistance, moral support, protection, companionship, and affection
Financial support the deceased would have contributed if they survived
Funeral and burial expenses
Loss of benefits or gifts family members could have expected to receive
Loss of guidance the deceased provided
The reasonable dollar value of household services the deceased can no longer provide
Loss of enjoyment of intimacy by a surviving spouse or domestic partner
Statute of Limitations for Airplane Accidents
You could sue the negligent party for causing your injury, but you must adhere to a strict deadline. California's statute of limitations for lawsuits allows a two-year filing period. That means you must file your lawsuit within two years of the date of the accident if you want to pursue compensation in court.
One exception could allow you to extend the statute of limitations period. If you are under a legal disability, meaning you are of unsound mind or under 18 when the accident happens, you will have two years from the date you are no longer under a legal disability to initiate your lawsuit.
Contact Us
Jurewitz Law Group Injury & Accident Lawyers have fought for our client's rights since 2007. We're proud of the hard work we put into every case we handle. We have a proven track record of success and know what it takes to get the job done. When you hire us, we will be your advocate and aggressively pursue the money owed to you.
If you suffered injuries in an airplane accident due to someone else's negligence, call Jurewitz Law Group Injury & Accident Lawyers at (619) 233-5020 for your free consultation with one of our airplane accident attorneys in Bakersfield, CA.